What Changed With Injustice 2's New Update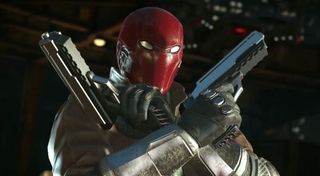 (Image credit: NetherRealm Studios/WB Games)
NetherRealm rolled out the latest update for Injustice 2 on the Xbox One and PlayStation 4. The super hero fighting game for home consoles has received a number of new features, fixed modes and bug squashes as part of the July 1st update.
Over on the official WB Games community page, one of the community managers for Nether Realm Studios posted up the changelog for the newest Injustice 2 update. The update includes some general stability improvements for both online and offline gameplay, along with some refinements to the controls when it comes to dashing.
A variety of character tweaks have been implemented, including a lot of tweaks for the new DLC character, Red Hood. A bunch of his moves have been upgraded, downgraded, increase and decreased. Generally a lot of his moves have been balanced out so that he's a more even character, which typically happens when newly added DLC characters join the roster.
A lot of the other characters simply received some minor bug fixes, including fixes for Poison Ivy, Swamp Thing, Green Lantern, Harley Quinn, and the Flash. Some characters required a bit more loving than others, though, such as Cyborg and Darkseid, both of whom had some issues regarding several of their special moves being bugged.
Most of the other characters had either a single adjustment made to a move or a minor bug fix addressed, but for characters like Batman, Black Adam and Wonder Woman, there wasn't much that was done. So for those of you who main them you probably won't see too many differences during the actual in-game play of Injustice 2.
The characters weren't the only ones to have undergone some changes. Batman's Batcave had a number of issues corrected, including a tweak so that you can no longer repeatedly slam people into the console, and the Brother Eye interaction can only be performed once per combo. There was also a fix that had to be addressed when a character was killed by using the hanging light.
A few fixes for Atlantis, the Arkham Asylum and the Slaughter Swamp were also implemented, along with a change to bomb interactions, which have been reduced to three active frames instead of five.
All of these fixes have arrived just ahead of the launch of the Sub-Zero DLC update, which will arrive following the Red Hood release. The other character in the pack set to arrive as well is Starfire from the Teen Titans. Out of the characters revealed so far, Red Hood was easily the most popular character, given his history with Batman and the Joker. The Red Hood also gained tons of mind-share stock after his appearance in Rocksteady's Batman: Arkham Knight.
If you already own Injustice 2 the update is available right now for Xbox One and PlayStation 4 owners. Sadly the game is not available on PC, but maybe Warner Bros., is taking time to address the port and ensure that if it does arrive on PC it'll do so in a way that highlights quality gameplay and optimization.
Staff Writer at CinemaBlend.
Your Daily Blend of Entertainment News
Thank you for signing up to CinemaBlend. You will receive a verification email shortly.
There was a problem. Please refresh the page and try again.