Batman Solo Film Will Probably Draw On Two Classic Storylines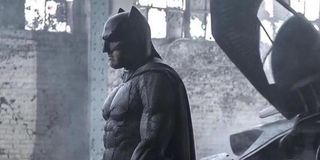 Although Warner Bros hasn't officially confirmed it to the public yet, it's all but set that a new Batman movie is on the way in the near future. Although Ben Affleck is reportedly co-writing the script with Geoff Johns and is also interested in directing, details have been light on what to expect from the movie plot-wise. Now, new information has come out reporting that the movie may revolve around former Robin Jason Todd, and as a result, two key comic book storylines will be drawn on for inspiration: A Death in the Family and Under the Hood.
For those unfamiliar with Jason Todd's history, 1988's A Death in the Family saw Jason being brutally murdered by The Joker while 2005's Under the Hood saw him resurrected and become the vigilante Red Hood. According to JoBlo, the Caped Crusader's next live action solo adventure will see Jason brought back from the dead and take on the Red Hood identity. He'll subsequently work from the shadows to make his former mentor look like a criminal, while also leaving clues for Bruce Wayne to follow. This will eventually lead to a confrontation between not just the former partners, but The Joker as well. The article describes Red Hood as DC's answer to Marvel's Winter Soldier, i.e. "former sidekicks gone evil and seeking a chance at redemption," so this could set Jason up for future movies as an anti-hero/good guy.
Fans got their first hint of the DCEU's Jason Todd in the last Batman v Superman: Dawn of Justice trailer, which showed Bruce Wayne looking up at a display case containing a Robin suit with the words "HA HA HA Joke's On You BATMAN" painted across. It was previously rumored that Batman v Superman: Dawn of Justice might feature a flashback of Jason being killed by the Clown Prince of Crime, so if this is truly the plot to the Batman solo movie, it stands to reason we'll see the murder unfold in the past either in the March blockbuster or later in the year during Suicide Squad. It's important that moviegoers get a sense of who Jason is so they realize how big a deal his return is.
As for who will play Jason, Warner Bros is reportedly looking to cast an unknown in the role (along the same lines as Ray Fisher's casting as Cyborg), but he'll look just like he does in the comics and the video game Batman: Arkham Knight. Jason also won't be the only former Robin who plays a part in the Batman solo movie. Dick Grayson will appear in his Nightwing guise helping Batman take on Red Hood and Joker. This all sounds quite similar to the 2010 animated movie Batman: Under the Red Hood, so I wouldn't be surprised if Ra's al Ghul and Black Mask made appearances as well.
While there's no official release date set for the new Batman movie, we'll keep you apprised on any big developments surrounding it. In the meantime, look forward to Affleck's Batman debuting in Batman v Superman: Dawn of Justice on March 25, 2016.
Connoisseur of Marvel, DC, Star Wars, John Wick, MonsterVerse and Doctor Who lore. He's aware he looks like Harry Potter and Clark Kent.
Your Daily Blend of Entertainment News
Thank you for signing up to CinemaBlend. You will receive a verification email shortly.
There was a problem. Please refresh the page and try again.