There's Only One Way To Buy The PS4 Pro In White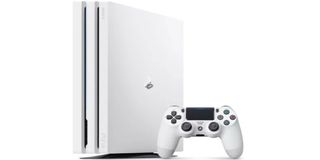 (Image credit: Sony)
Sony's PlayStation 4 Pro may be out on the market at the moment but it's only available in the matte black format. If you were keen on sprucing up your gaming center with an all white PS4 Pro, you might be a little disappointed to find out that there's literally only one way to get your hands on one: buy the Destiny 2 bundle.
Polygon is reporting that the new white PS4 Pro bundle was announced, and it will only be available when you purchase it as part of the Destiny 2 console bundle. The Glacier White PS4 Pro bundle that comes with Destiny 2 is available right now for pre-order for $449.99.
The bundle features a 1TB PS4 Pro, a physical copy of Destiny 2 -- which is a real highlight given that some of these deluxe and combo bundles don't actually include physical copies of the game, such as the Mass Effect: Andromeda bundle for $200 that didn't actually include the game -- it also comes with the expansion pass for two additional add-on packs, a digital content pack that comes with a legendary sword, a legendary emote, and the Cabal Empire-themed emblem, and a Glacier White DualShock 4 controller.
Polygon also reported that Sony confirmed that there are no plans right now to sell the Glacier White PlayStation 4 Pro as a standalone SKU. This means that the only way to get your hands on the device is to pay top dollar for it as part of the Destiny 2 bundle.
The article also notes that this is the first time that the PS4 Pro is being made available in another color than its jet black livery.
Destiny 2 is expected to run on the PS4 Pro at 4K and 30fps. It was announced back during E3 that Destiny 2 would be limited to 30fps on all home console versions, which includes the PS4, Xbox One, Xbox One X and the PlayStation 4 Pro. Some argued that the Xbox One X should be able to run the game at the 60fps mark, at least, especially if the PS4 Pro can handle the game at 30fps and 4K. What we don't know is if Destiny 2 will use checkboard rendering to compensate for a lack of native 4K, or if it will actually be native 4K on the PS4 Pro.
According to Bungie, there were issues on the CPU side that forced it to stick with 30fps instead of aiming for 60fps. Some argued that due to how much power the Xbox One X has, the game should be running at 60fps on the XBX and not 30fps, especially considering that the PC version will be able to run at unlimited frames per second. Some also argued that an option for 1440p or 1800p at 60fps should also be made available for those who would rather have smoother frame-rates over higher resolution.
It's definitely an issue with some games where players would definitely prefer that bump up in FPS over the bump up in resolution, but most games seem to be aiming for either checkerboard 4K rendering at 30fps or native 4K rendering at 30fps.
On the upside, at least you'll be able to play Destiny 2 on a very sexy looking Glacier White PS4 Pro if you do decide to get the limited edition bundle.
Staff Writer at CinemaBlend.
Your Daily Blend of Entertainment News
Thank you for signing up to CinemaBlend. You will receive a verification email shortly.
There was a problem. Please refresh the page and try again.