Dying Light Is Promising A Lot Of DLC Over The Next Year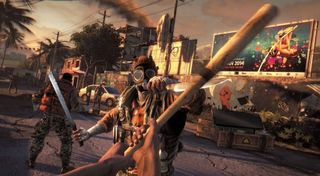 (Image credit: Techland)
Dying Light is the game whose DLC light just won't die out, and fans seem to be excited that it continues to have content produced for it. In fact, there's a heck of a lot of new content on the way for the zombie-parkour game due to drop over the course of the next year for home consoles and PC.
Gamespot is reporting that Techland has announced that there will be 12 months of free DLC, consisting of 10 DLC packs released over the course of the next year. Before the year of free DLC will be made available for Dying Light, Techland will be releasing what's being called "Drop #0". This special free DLC pack will be a precursor for the 10 free DLC packs released over the course of the next year.
So why is Techland still producing content for a game that's almost three years old? Well, Gamespot notes that across the three platforms, Dying Light still has half a million players engaged with the game each week. That's a fantastic number given that most games can't maintain that kind of user engagement after eight weeks of being released. Retaining half a million users on a weekly basis after being on the market for three years is a remarkable feat.
The new DLC isn't just going to be some cosmetic upgrades and a few new weapons, according to the article the expansions will bring new enemies to the fold, along with more in-game events, brand new locations to explore and all new missions to complete.
The Drop #0 content will go live within the next few weeks and introduce players to some brand new enemies that Techland cooked up for Dying Light. This will help whet the appetite of gamers ahead of the official 10 free DLC packs that will begin rolling out later this year, presumably during the fall.
Usually I would say that launching DLC or any sort of major content during the fall is a death knell for any studio that isn't producing an AAA game or AAA-sized DLC, but the fact that the Dying Light content is free actually won't hurt at all and might even help because the game right now is about $20 at most outlets (or cheaper yet if you get it used). Getting your hands on some expansive new content for a three-year-old game for free sure looks a lot more tempting (and tasty) than having to shell out $60 for a brand new game. The fact that half a million people are still engaged with the game even without the new DLC means that Techland could be looking at moving millions of pieces of DLC this fall if all goes according to plan.
Heck, maybe Call of Duty and Destiny 2 will be the ones needing to keep an eye out for losing players when Techland starts dropping the free content.
Anyway, the developers will be hosting four special events for the game per quarter over the next year. The developers will also be taking in community feedback when it comes to improving and updating the content; it's not all a static roadmap, so expect a bit of flexibility.
Dying Light is available right now for the Xbox One, PS4 and PC.
Staff Writer at CinemaBlend.