A Destiny 2 Coloring Book Is Coming, So Whip Out The Crayons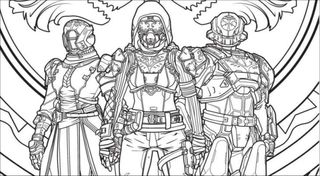 (Image credit: Bungie)
You'll have to wait until September to play the full version of Destiny 2. Leading up to the release there have been some beta tests, but those tests were brief and only lasted a few days. If you really want to get your hands on more Destiny ahead of release, there's actually a coloring book set to go live this month.
Gamespot is reporting that starting August 8th, Destiny 2 will have a full fledged coloring book made available for only $16. A version of the book will also be available on Amazon for only $11.53.
The coloring book features a variety of images of the character classes, heroes and environments that Destiny 2 is known for, giving gamers an opportunity to re-color some of the designs and outfits as they see fit.
In a way, this is a great way to experiment with giving certain gear its own colorful flair that wasn't present in the main game. Heck, maybe if certain designs get popular enough through social media Bungie might even perk up and take notice... or at least, maybe one can hope?
The actual coloring book came to be based on a t-shirt design contest that Bungie held, where Gamespot reports that artist Ze Carlos ended up winning the contest and was selected to put together the coloring book based on the upcoming sci-fi first-person shooter.
The article notes that there was also a coloring book for The Witcher 3, but I doubt that's the sort of thing you would want to buy for your kids.
Destiny 2 is currently one of the big games set to debut heading into the fall season. Activision and Bungie are likely hoping to get a jump on other AAA titles such as Call of Duty: WW2 and Assassin's Creed: Origins as they are also geared to make a big splash later this year as well.
Destiny 2 will introduce gamers to a whole new story centering around a foe and his army who are bent on usurping the Light from the Guardians. The player-character ends up losing all of their abilities at the start of the game, and must restart from scratch, re-learning moves, abilities, powers and other useful skills in order to reclaim the planet and reclaim the Light.
Activision has been using a pretty big promotional push to put Destiny 2 into the spotlight in order to lure more gamers into the fold and get them interested in the sci-fi shooter sequel. Having a coloring book made available just helps further push the brand out there for the general public to consume.
Some of the users in the comment section joked about the coloring book coming with DLC to unlock additional pages, but others noted that it was a good way to spend some quality time with their kids, which is never a bad thing.
You can look for the Destiny 2 coloring book to be made available early in the week on Tuesday, or you can keep counting down the days until the full game releases for the Xbox One and PS4 starting September 6th next month.
Staff Writer at CinemaBlend.
Your Daily Blend of Entertainment News
Thank you for signing up to CinemaBlend. You will receive a verification email shortly.
There was a problem. Please refresh the page and try again.