Destiny 2 Will Limit Streaming Options On PC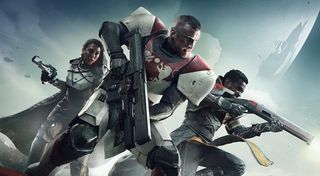 (Image credit: Bungie)
The beta for Destiny 2 on PC is arriving a bit later than the console release. Gamers will be able to get in on the beta at the end of the month, just ahead of the full launch of the sci-fi shooter. Well, not only will the beta be arriving late on PC, it will also have a limit on how you can stream the game as well. Apparently, quite a few services will not work with Destiny 2.
Over on the Bungie help page there's a heads-up about how the security measures in place to ensure that everyone can log into and play Destiny 2 may inhibit the use of some forms of software, including streaming services and applications.
The page specifically points out that Destiny 2 may be incompatible with OBS and Xsplit, two game capture applications that are not supported at the moment. However, you can play and capture content for the game if you play in the windowed mode or if you play using Windows 10's borderless full-screen.
Now, keep in mind that when playing in windowed mode or using the borderless full-screen mode, some games have been known to take a hit in performance, depending on the settings. Some games run better in the borderless mode, so it all depends on how Bungie optimized Destiny 2 and what your system specs are. This is something to consider if you decide to use Xsplit or OBS in the windowed mode to capture your gameplay sessions for Destiny 2.
In exclusive full-screen mode, Bungie does allow support for raw capture through native hardware devices such as Elgator or Avermedia. It's also possible to use a dedicated streaming network PC for 1:1 capture as well. So if you already have an Avermedia or Elgato setup and you use it for home console play or for PC streaming, you're good to go. Additionally, Nvidia Shadowplay and AMD ReLive are also supported, assuming any of you actually use those dedicated software alternatives.
Some of you might be wondering about one of the more iconic and classic video capture utilities: Fraps. Well, I'm sorry to say but Fraps, Razer Cortex and Dxtory are also restricted from being used to capture gameplay from Destiny 2.
It doesn't end there, though. If you're using third-party overlays such as Discord and Mumble, you'll run into some issues since they are not compatible with Destiny 2. So if you were planning on joining with your buds, using Discord to chat and some other third-party capture device to record your gameplay, you're fresh out of luck.
Also... (and yes, there's more) if you're planning on benchmarking Destiny 2 during the beta using hardware monitoring software applications, such as EVGA Precision XOC, the Msi Afterburner or Fraps, you won't be able to do so efficiently, since none of those apps are compatible with Bungie's first-person shooter.
This isn't to say that you can't at least try to use some of these third-party programs while playing Destiny 2. You can certainly try. The thing is, Bungie warns that some of these software apps attempting to run while you have Destiny 2 open may eventually impact game performance and bring everything down to a crawl. The beta will take place on August 28th for PC, and the full game will launch in October.
Your Daily Blend of Entertainment News
Staff Writer at CinemaBlend.