Star Wars Battlefront 2 Is Teasing Some Space Battles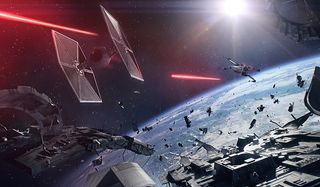 We've known for a while now that one of the most highly-requested modes omitted from the original Star Wars Battlefront, space battles, will be making their way into the sequel. Electronic Arts has finally started to pull back the curtain on those aerial showdowns, sharing a bit of information leading up to Gamescom 2017.
Over on IGN, they're reporting that EA has big plans for this year's Gamescom when it comes to Battlefront II, as they'll be showing off multiplayer space combat for the first time. In a recent EA blog post, the publisher gives a brief glimpse of what players visiting the show (as well as those who eventually pick up the game, have to look forward to.)
That sounds like exactly what fans have been clamoring for since the original Battlefront launched. While that original game managed to find a solid audience, even fans admitted that it was lacking in a few key areas. There was no single player campaign, for starters, and the much-loved space combat modes from older versions of the Battlefront series had been removed. Obviously, folks were pretty delighted when both of those things were announced for the upcoming Battlefront II.
In the original blog post, EA states that fans don't have much longer to wait in order to see those sweet space fights in action. They'll be doing a livestream of the event from the Gamescom floor on Aug. 21 starting at 9:30 a.m. PT. That stream will include a new trailer, live gameplay and, yes, the reveal of the Starfighter Assault mode.
On top of all of that in-game action, EA will also have the game's new flight controls on display. Players could fly ships in the original Battlefront, but it was a somewhat limited experience. If they're going full tilt into space combat, it makes plenty sense that they would need to give the system a full overhaul. They'll also be introducing viewers to the new customization options for the ships, as well as explain how even the ships have a class-based system.
If you simply can't wait to get your hands on the game, then you might want to mark your calendar from Oct. 4-9. Anyone who pre-orders Battlefront II will be able to start enjoying the beta on Oct. 4, with everyone else invited in on Oct. 6. The whole shebang wraps up on Oct. 9 for both groups. During the beta, you'll get to play both the Starfighter Assault and Galactic Assault modes.
Staff Writer for CinemaBlend.
Your Daily Blend of Entertainment News
Thank you for signing up to CinemaBlend. You will receive a verification email shortly.
There was a problem. Please refresh the page and try again.