Nintendo Switch Owners Think Hot Dogs Are Sandwiches Because People Are Crazy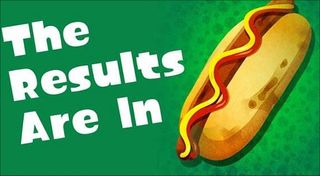 (Image credit: Nintendo)
During a brief news post on the Nintendo Switch news feed, Nintendo revealed the results of a poll that was rolled out for Nintendo Switch owners, asking if they think that hot dogs are sandwiches. Crazily enough, a lot of people actually think that hot dogs are, indeed, sandwiches.
The poll comes courtesy of Hot Dog Day celebration... or rather, in result of the celebration, which took place a few weeks ago. In the poll, Nintendo asked Nintendo Switch owners: are hot dogs sandwiches?
54% of Switch owners answered that, yes, hot dogs are sandwiches. 46% of Switch owners answered that, no, hot dogs are not sandwiches.
It's crazy that people think that hot dogs are sandwiches. Sure, an argument can be made that anything with meat between buns/bread is a sandwich, but do we really call hamburgers sandwiches? Or what about pizza rolls? Heck, that's meat and cheese between baked bread... wouldn't that make them sandwiches as well?
The nuances of sandwich science weren't hard for Super Mario Odyssey game director Mr. Koizumi to understand. The news post from Nintendo points to his recent AMA over on Reddit, where Koizumi-san acknowledged that hot dogs are, indeed, not sandwiches.
The poll was created for gamers in the Americas. So, this included those in both North and South America. We don't know exactly what Nintendo Switch owners in Europe or Asia think about hot dogs being sandwiches... maybe, perhaps, there's hope they agree with Mr. Koizumi?
The poll results were sandwiched in between some goofy news about the daily lives of the pugilists from ARMS and what they do when they aren't in the ring fighting, as well as an update on what's new on the Nintendo eShop for the week ending on August 18th.
It's likely a lot of people may have even missed out on the pool due to games like Sonic Mania becoming available, along with the Jackbox Party Pack and the complete edition of Minecraft: Story Mode.
Of course, if you did have time to check the news feed on your Nintendo Switch, the poll was pretty obvious, since there was a giant hot dog on the main screen.
There's no telling if more polls like this will pop up in the near future, but a lot of it depends on if people click on the "Great" button at the bottom of the news page, or if they choose the broken heart "Oh" symbol. If enough people continue to decide that these weird polls are a good bit of community interaction, Nintendo will continue to pump out more polls on the Nintendo Switch news feed.
I do wonder if it will have more crazy poll options, though? After the Splatoon 2 Splatfests pitting odds and ends against each other, from food to super hero powers and everything else in between, I can only imagine what the next poll might be. Heck there might be a poll on if ice cream is better for breakfast or dessert, or if motorized prams are actually go-karts.
Staff Writer at CinemaBlend.