How To Get The Splatoon 2 Edition Nintendo Switch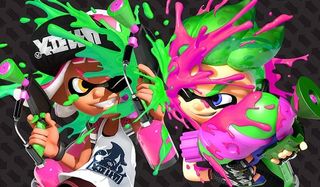 If you've been holding out on getting a Switch and already have plans to pick up one of the new console's biggest titles, then you'll probably want to keep your eye out for the Splatoon 2 bundle, which will soon be launching in North America. Grab your wallet and get ready to make a trip to Walmart on Sept. 8.
When Splatoon 2 launched a few weeks back, it instantly became a must-have title for Nintendo's Switch console. Luckily, you'll soon be able to kill two birds with one stone by picking up a themed bundle. It includes a copy of Splatoon 2, the green and pink Joy-Con controllers, as well as a Switch carrying case. All told, the bundle will set you back $379.99. As for timing, you can find a bundle of your own out in the wild come Sept. 8.
While most game bundles seem to give purchasers a little extra bang for their buck, that's not really the case with this Splatoon bundle. A standard Switch goes for 300 bucks while the game is typically sold for another $60. Similar cases to the one included in the bundle are usually another $20. In other words, if you were to buy everything here independently, you'd still be paying $380. Then again, this seems to be the only way to get your hands on those stylish Splatoon-themed Joy-Cons and the case itself is different than the one you can currently get on store shelves.
Still, it's an attractive package and, if you're going to get a Switch, you're probably going to want to pick up Splatoon 2 and a carrying case in short order, so the bundle at least crams all of that into a single box.
If nothing else, we're just happy to see Nintendo bringing a Splatoon 2 bundle to the territory. The publisher can get oddly particular about what they launch, where and when, and we were starting to think North America was going to be left out of the fun even though similar bundles already launched in Japan and Europe. The only real catch is that the bundle will apparently be exclusive to Walmart and eBay. Okay, eBay isn't exactly a part of Nintendo's plan, but you just know these bad boys are going to show up on the digital marketplace with a premium price tag attached.
During this same announcement, Nintendo took the opportunity to announce the next Splatfest theme. Splatfests are those Splatoon events that ask players to pick a side in a lighthearted competition and then battle for their chosen team through a 24-hour event. The next Splatfest will be Flight versus Invisibility and, based on the most recent event, things are likely to get controversial. I'll go ahead and get that ball rolling by saying anyone who chooses Invisibility over Flight is living life wrong. Also, there's a good chance they're a pervert, too. Don't be a pervert, choose Flight.
Your Daily Blend of Entertainment News
Staff Writer for CinemaBlend.