Here's What's Coming In Rocket League's Autumn Update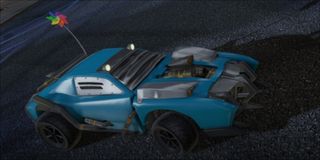 (Image credit: Psyonix)
Psyonix has a big new update in store for Rocket League gamers later in the month. The fall update provides gamers with some brand new content, including some new accessories, a new map, and some all new content specifically designed for eSports.
IGN is reporting that there's an all new map set to drop for Rocket League on the September 28th update, which is none other than the seasonally-themed map called Farmstead. The arena is designed around the pumpkin-tinted motif of "Autumn", which means there are plenty of red leaves, orange hues in the sky and plenty of farm-oriented material lounging about.
The arena is extremely thematic. There's a scarecrow sitting in a field with a few crows sitting on top of its head and arms. The Farmstead also appears to be littered with pumpkin pieces scattered about along with some smashed flowers littering the ground. There are silos, stables for some cardboard cows, a windmill and a neatly stacked wooden fence.
The inside of the arena is classic Rocket League, with a dirt ground and a fenced cage keeping all the action inside. However, unlike other arenas, with high-tech goal posts, the goal posts for this particular map have been replaced with rickety wooden structures sort of looking like an open stable.
But there's more than just a new map that will be available for what's dubbed as the "Autumn Update". Psyonix will also be adding up to 90 free items for players to accessorize their cars with, including new banners featuring pizza and pigeons, and all new toppings for the cars that include a Tacos Boost and Avocado Toppers.
But that's not all... Psyonix has also decided to pay a little mind and attention to the eSports flavorings of Rocket League. This includes all new option to turn goalposts transparent so that you can get a better view of the action when the camera is located from the goal, and two of the maps have been made consistent for eSports competition, including Wasteland and Starbase Arc arenas.
It doesn't end there, though. There's also an all new AI-powered eSports camera to spectate the action and predict the player moves. The camera's predictive learning is actually based on the cameras used in real-life sports, allowing players to drop in and spectate or broadcast matches with television-ready camera work provided by the AI. It's a breakthrough piece of software tech that will likely find its way into more games that dabble into the eSports competitive arena.
And last but not least is the all new LAN mode for PC play. Yes, Psyonix is going old-school by allowing gamers to play with friends via LAN connections. This will definitely help make LAN parties a thing again... right? Right?!
If you don't feel like lugging your desktop PC around to your friend's house, don't fret because Psyonix plans on adding LAN support to the home consoles as well in a future update. Once again, you can look for the Autumn Update to go live for Rocket League across home consoles and PC starting September 28th.
Staff Writer at CinemaBlend.
Your Daily Blend of Entertainment News
Thank you for signing up to CinemaBlend. You will receive a verification email shortly.
There was a problem. Please refresh the page and try again.