New Trailer Shows Wolfenstein II: The New Colossus In All Its NSFW Glory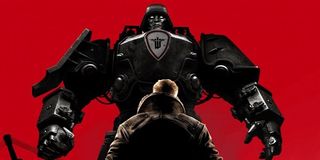 When Wolfenstein II: The New Colossus launches next month, players will once again take on the role of BJ Blazkowicz in his never-ending quest to rid the world of Nazis. And as the game's latest trailer reminds us, the game will be earning its Mature rating for good reason.
In short, Wolfenstein II is rated "M" for "all of the reasons." On top of the series' over-the-top violence and language, there's partial nudity, sexual content and, as was revealed during the Bethesda E3 2017 press event, drug use. I mean, a dude talks to a cartoon lizard before going to shoot people so, yeah, there's a lot going on in this game.
As for all of that NSFW content, many examples of it are on display in the latest "No more Nazis" trailer, which does a great job of getting us excited for the game. Great one-liners? Check. Thumping soundtrack? Check. Insane amounts of carnage? Check. But, again, seriously, this is basically a red band trailer, so maybe don't watch it around those who are easily offended by blood, sex and violence.
As outlined in the trailer's background info, this latest game in the Wolfenstein series takes place on American soil. In this alternate version of history, the Nazis are slowly taking over the United States. They've "turned Manhattan into a wasteland...walled off New Orleans and are...burning people and homes to the ground."
We've already seen in the E3 trailer how this occupation plays out in small town America, where Nazis walk the streets and force regular citizens to live in fear. That first trailer was very reminiscent of the opening scene of Inglourious Basterds, with scenes unfolding full of quiet terror. This latest trailer is more like the final act of that same film, boasting gratuitous violence as a small resistance stands up against its oppressors.
If this latest Wolfenstein is anything like the more recent games in the series, then players are in for a blast-a-second romp through war-torn America. Obviously, there's some tricky social commentary to tread through here, given recent events around the country. But we're not here to get all political. We're here to talk about a game that, regardless of its subject matter, looks like a heck of a lot of fun to play. We're still baffled that this will be playable on the Nintendo Switch, but that's also fantastic news for folks who want to fight Nazis on the go.
Wolfenstein II: The New Colossus hits the Xbox One, PlayStation 4 and PC on Oct. 27. If you pre-order the game, you'll gain access to "The Freedom Chronicles," a special bit of DLC that lets you play as Gunslinger Joe, Agent Silent and Captain Wilkins.
Your Daily Blend of Entertainment News
Staff Writer for CinemaBlend.