Bethesda Hiring For Fallout 4?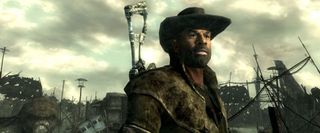 Elder Scrolls V: Skyrim developer Bethesda Softworks is gearing up for their next major release. They haven't announced what this game is yet. However, it's going to be for the PC and the next generation of consoles.
"Bethesda Game Studios is looking for experienced programmers to work on cutting-edge technology for an unannounced game on future-generation consoles," reads one of the job listings on the company's website.
The programming listings also mention that candidates should have experience with the Xbox 360 and PS3. Presumably this means that they're targeting the next-generation PlayStation and/or Xbox for this upcoming game. Bethesda mentioned the PC on their company blog as well so they'll be sticking to their roots no matter how the next consoles shake out.
It's possible that Bethesda will kick off the new generation of consoles with a brand new IP. However, their two main franchises - Elder Scrolls and Fallout - are still in demand so a sequel to one or the other seems likely. It's technically Fallout's "turn" now that Bethesda released Skyrim this fall. Fallout 3 will turn four years old in October so I'd say it's high time that we get a proper sequel.
Rumor has it that the next Xbox - Xbox 720, Xbox Trinity, Nextbox, whatever - will arrive in Fall 2013. If Microsoft - or Sony - has a new console that close to release, I assume we'll hear something about it at this year's E3.
Staff Writer at CinemaBlend.
Your Daily Blend of Entertainment News
Thank you for signing up to CinemaBlend. You will receive a verification email shortly.
There was a problem. Please refresh the page and try again.