Nintendo's New Livestreaming Policy Is Bad News For Some YouTubers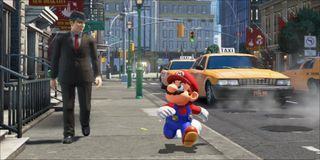 (Image credit: Nintendo)
Nintendo has updated its policies regarding monetizing content and streaming videos of its video game products on services such as YouTube. The new outline, however, makes it extremely cumbersome to stream from your YouTube account if you're already a registered partner with Nintendo's revenue share program.
The new policy was outlined over on the Nintendo Creators Program page, where the company outlined how the revenue sharing system works for YouTubers who decide to opt-in. One of the updates to the policy explains that content streamed live cannot be monetized through the Nintendo Creators Program.
The policy update explains that live-streaming falls "outside the scope of the Nintendo Creators Program," and so you'll have to make a completely separate YouTube account if you plan on monetizing your live-streams of Nintendo's products.
Things get even more complicated, as the policy explains that you can broadcast live on a YouTube channel not associated with the main channel that's part of the Nintendo Creators Program, and then submit the live-streamed content for Nintendo to review for monetization, or you can cancel your registration with the Creators Program and register each live-streamed video separately for monetization potential.
However, it gets even more complicated. If you decide that the majority of your content consists of live-streaming Nintendo games because you can't be a part of the Creators Program utilizing that content, and if you unregister your account from the program, you'll then have to re-register every single one of your Nintendo videos containing the company's games for potential revenue share on an individual basis.
This is definitely going to be an inconvenience for some content creators because, for those of you out there who make a mixture of content for live-streaming and standard Let's Plays, it means you'll have to separate your content. So, for instance, if you have a bunch of Pokemon Sun and Pokemon Moon walkthrough guides, but then you decide to live-stream Super Mario Odyssey on the day of its release, you won't be able to do the latter activity on your main account and receive any revenue share from the action. Instead, you would have to live-stream from a separate account, or unregister your account and then re-register all of your Pokemon videos individually.
Some people speculate that this is to avoid any situations where a content creator may say or do something deemed inappropriate on a live broadcast and end up putting Nintendo in the hot water of a PR disaster if it's discovered that the content creator is part of the Nintendo Creators Program. In a way, Nintendo can distance itself if the live-streamed content is on a separate channel, and it also means that if it decides to sent out a DMCA notice to have the content taken down, it won't affect the content creator's main bread and butter channel.
Either way, it's now an encumbering task for content creators focusing on Nintendo products to monetize their work. However, with games like Super Mario Odyssey on the horizon, Nintendo may be taking extra precautions to avoid any sort of unnecessary PR backlash for one of the biggest games coming out this fall for the Nintendo Switch.
Your Daily Blend of Entertainment News
Staff Writer at CinemaBlend.