How To Get The Superior Spider-Man Costume In Marvel Vs. Capcom: Infinite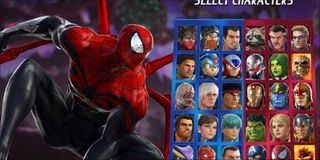 (Image credit: Capcom)
Capcom's Marvel vs Capcom: Infinite isn't without its own surprises. In fact, it was recently revealed that the two-on-two fighting game has a special new costume you can unlock for Spider-Man. The Superior Spider-Man outfit can be earned for the PS4 and Xbox One versions of the game pretty easily, by purchasing a digital copy of Spider-Man: Homecoming.
Eventhubs is reporting that all you have to do is either purchase an HD digital copy of Spider-Man: Homecoming from either the PlayStation Store for the PS4 or from the Micorsoft Movies digital storefront for the Xbox One. By doing so you'll be given a code to access the Superior Spider-Man outfit in _Marvel vs Capcom: Infinite. _
You'll have to purchase the movie before October 24th, 2017 11:59PM Pacific Standard Time. You'll also only have up until November 30th, 2017 to retrieve the code. So if you want the costume you'll have to work fast and pick up the HD version of the digital movie for Spider-Man: Homecoming.
So what does the Superior Spider-Man costume do? Well, it features additional tentacle-like tendrils protruding from the back of Spider-Man and his costume is slightly altered.
Beyond that, the costume is just another alt for Spider-Man in Marvel vs Capcom: Infinite. Some people who may not be keen on paying for a digital copy of a movie they have no intentions of seeing aren't entirely thrilled at the idea of having to go through that process just to unlock a new costume for a character in a fighting game.
Traditionally in fighting games if you wanted to unlock a new costume for a character you would have to complete a specific set of objectives, such as winning so many matches, or not losing HP during a certain bout, or unlocking some other kind of achievement.
These days unlocks are usually done through pre-order bonuses, deluxe edition purchases, microtransactions, retailer exclusive DLC, or in this case buying a completely separate product in order to access a character costume in a fighting game.
Some people, however, are excited about the costume and the movie tie-in with the Marvel Cinematic Universe. That was actually one of the biggest criticisms from reviewers about Marvel vs Capcom: Infinite -- essentially a lot of reviewers felt as if Disney's marketers had a little too much sway in the content roll out of the fighting game. It's hard to deny the fact that the roster is strongly influenced by Marvel's current and upcoming movie roll-out, with a majority of the focus of the roster being on the Marvel Cinematic Universe as opposed to the characters and fan-favorites from the comic books and cartoons, which is how Capcom originally put together the roster.
Some fans are a little worried about whether or not they'll be able to purchase the costume separate from the Spider-Man: Homecoming film. A few of the gamers in the comment sections and Twitter threads noted that they would be willing to pay for the outfit as a microtransaction from the cash shop.
Don't be shocked if Capcom adds the costume to a bundle pack at some point in the near future that gamers will be able to download. For now, the only way to get the Superior Spider-Man costume is by purchasing a digital copy of the Spider-man flick.
Staff Writer at CinemaBlend.
Your Daily Blend of Entertainment News
Thank you for signing up to CinemaBlend. You will receive a verification email shortly.
There was a problem. Please refresh the page and try again.