Call Of Duty WWII Live-Action Trailers Get The Gang Back Together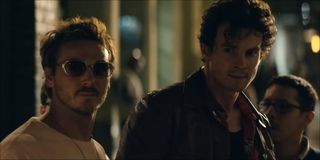 With the release of Call of Duty: WWII drawing ever so near, Activision and Sledgehammer Games have been ramping up the promotion of the title by unleashing brand new trailers for the game. The latest trailer highlights some live-action fun as it encourages gamers to get the old gang back together for some high-octane FPS fun.
The trailer was posted up over on the official Call of Duty YouTube channel recently, featuring the two and a half minute clip.
It starts in an office building where a dude in glasses heads into his boss' office only to find his old Call of Duty friend hanging out in the chair. He reveals that Call of Duty has gone back to World War II, and that they need to get the old gang back together again.
The ragtag band of scroungers, ruffians, deadbeats, hooligans, and nerds each gets rounded up from their respective duties, including loitering in a store eating chips, hanging out at home drinking tea, getting into bar brawls, and standing around on street corners.
Things then take a decidedly different turn when they recruit a super-model at a mogul's mansion, and also pick up a sharp-shooting mother after they get a babysitter to watch her kid.
The U.K., edition of the Call of Duty: WWII live-action trailer is slightly different, with it starting off with a fellow hopping into a cab and telling his mate that they need to get the squad back together after informing him that the game has headed back to World War II.
The trailer is about a minute less than the American trailer. They pick up a lawyer during the middle of a trial, an office assistant, and yet another hooligan.
It's not quite as over-the-top as the American version, but there's also a rather hilarious French version as well, where the team recruits a bellboy who seems to have a penchant for picking up lovely ladies in the elevator, and a butcher who has a way with meat.
Once again, the French trailer is a minute shorter than its North American counter-part, but it keeps with the theme of having someone blocking the path of the team once they've reassembled.
It's pretty hilarious (and expensive?) to see how Activision made a different live-action trailer for Call of Duty: WWII for each region.
The theme is pretty simple: after all of the future warfare themes in Call of Duty: Ghosts, Call of Duty: Advanced Warfare, Call of Duty: Black Ops III, and Call of Duty: Infinite Warfare, it's time to reassemble the squad for the old-school boots-on-the-ground action offered up by Call of Duty: WWII.
Your Daily Blend of Entertainment News
Staff Writer at CinemaBlend.