Final Fantasy Mobius Event Will Answer A Major Final Fantasy X Question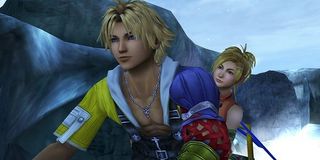 If you played Final Fantasy X, you were likely left with a few questions. Some of those questions weren't even answered when the sequel arrived. Now, all these years later, Square Enix is filling in at least one of the gaps through the popular mobile game, Final Fantasy Mobius. What exactly happened to Tidus between games?
I should probably start off by saying there are some decent spoilers ahead. Sure, Final Fantasy X is more than 15 years old at this point, but updated versions of the game have popped up in recent years and, well, I just don't want anyone who is just now getting into the game saying I didn't warn them. You've been warned.
So Tidus is a ghost! If you finished Final Fantasy X or played the sequel, you're well aware of that act. The big mystery, though, is where he goes between the first and second game. Near the end of Final Fantasy X, he goes off into the ether and resurfaces eventually in X-2. But until now, the way he spent his time in the interim has not been revealed.
According to a report from Gameinformer, the closest Square Enix ever got was a brief in-game movie called "Eternal Calm." This was included in the remastered versions of Final Fantasy X that have popped up on PS3, PS4, and PC but, while Yuna and Rikku discuss Tidus' whereabouts in the movie, they never actually find out where he disappeared to.
As noted above, that's all about to change thanks to Mobius, which is available as both a mobile and PC game.
The in-game event is going to be called "Dream Within a Dream," and it will finally give us all of the details pertaining to Tidus' disappearance. Based on the Japanese trailer, it looks like he decided to pop into the ongoing tale of the Warrior of Light to lend a hand, but we doubt the narrative will be that straightforward.
In fact, many of the team members from Final Fantasy X are back on board to help craft this event, including the game's lead writer. We're hopeful that the tale will be given plenty of time and care, as Final Fantasy X is a series favorite for many players.
If you haven't picked up Final Fantasy Mobius yet, it's actually a really ambitious mobile game. It sports great graphics, solid gameplay and loads of content at this point. You don't see a lot of story-driven RPGs on the platform, so it's definitely worth checking out for the low-low price of zero dollars.
As noted in the original story, this event has so far only been announced for launch in Japan, but we have a hard time believing "Dream Within a Dream" won't eventually make its way to the West.
Your Daily Blend of Entertainment News
Staff Writer for CinemaBlend.
Your Daily Blend of Entertainment News
Thank you for signing up to CinemaBlend. You will receive a verification email shortly.
There was a problem. Please refresh the page and try again.