Final Fantasy Brawler Shows Off Legendary Character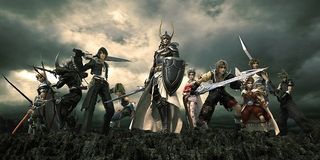 Dissidia Final Fantasy is just a couple of weeks away from finally launching in Japanese arcades, which means it's time to get to know the roster of fighters a bit better. Square Enix and Koei Tecmo have decided to tackle that task in an orderly fashion, introducing the original Final Fantasy's Warrior of Light in a brand new gameplay trailer.
If you are a Final Fantasy fan, the correct reaction to the above video is to squee for a minute or two. There are few things better than a mash-up brawler that combines characters from various games, and having all of those Final Fantasy heroes and villains go toe to toe in glorious HD is certainly a treat to behold.
The above trailer comes to us courtesy of Crunchyroll, who stumbled upon the trailer while visiting the game's Japanese Youtube page. At present, Dissidia Final Fantasy is only slated for launch in Japanese arcades. Arcades are all but extinct here in the States, so the chances of us seeing those cabinets in the U.S. seem pretty slim.
There is hope of the game making its way out of the homeland, however. It's worth noting that the button layouts on the Dissidia cabinets not only resembles that of a PlayStation controller, but they also sport the same icons. In other words, porting the game from arcades to home consoles seems to already be part of the plan and, given Final Fantasy's worldwide success, it's probably a safe bet that an eventual console launch would lead to launches in territories outside of Japan, too. We have no other course of action at this moment save to cross our fingers and toes.
It's also worth pointing out that this is not the first Dissidia game, as the series got its start on the PlayStation Portable. Both of those previous games (Well, one game and an enhanced version of the same game) launched outside of Japan and saw plenty of success.
The Dissidia games typically boast one main villain and one main hero from each of the numbered Final Fantasy games, as well as a handful of fan-favorite additional characters. We haven't had a full roster reveal for this latest entry yet, but that's probably a safe bet for what we can expect. The maps are typically ripped straight out of Final Fantasy lore, too, making Dissidia basically a fanfic come to life. The combat engine is also rather clever, allowing players to zip around the maps and wage war in ways that look more akin to CG cutscenes than turn-based fights.
Here's hoping we get to see even more characters in action through new trailers in the coming weeks.
Staff Writer for CinemaBlend.
Your Daily Blend of Entertainment News
Thank you for signing up to CinemaBlend. You will receive a verification email shortly.
There was a problem. Please refresh the page and try again.