What Some Of The First Backwards Compatible Original Xbox Games May Be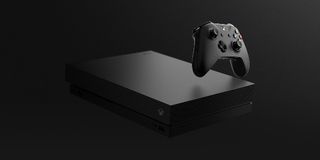 With the Xbox One X set to launch next month, it's kind of surprising that some of the biggest rumors buzzing around the Microsoft camp deal with games nearly two decades old. According to the latest rumors and supposedly leaked images, we could be seeing original Xbox backwards compatibility hitting the modern consoles very soon.
During the E3 2017 Xbox press briefing, Micrsoft head Phil Spencer announced that original Xbox games would soon make their way to the modern family of consoles including the Xbox One, Xbox One S and Xbox One X. Now information about what games could be included in the first wave of releases is starting to pop up, including titles like Fuzion Frenzy, Star Wars: Knights of the Old Republic, Crimson Skies, Psychonauts and more.
Rumors, according to Polygon, first started appearing when Xbox One users reported seeing the games pop up in the online marketplace. Since leaks originated in these same places for Xbox 360 backwards compatibility in 2015, some extra weight has been added to the rumors.
An example of this comes from Twitter user WalkingCat, who reportedly stumbled upon an image showing off 12 original Xbox games including the ones listed above, as well as Red Faction II, Ninja Gaiden Sigma and the original BloodRayne. We wouldn't call all of the selections must-have classics, but there's certainly some of those in the mix. There are a lot of fan favorites included, too, so it seems like a solid launch lineup if accurate.
We're still unclear on what form this backwards compatibility will take, but we're guessing it's similar to Microsoft's practices with the Xbox 360. In other words, we imagine some games will be made available for digital purchase and, if you happen to still have your physical copies lying around, you should be able to insert those into the console and play them like normal.
The original report goes on to speculate that the timing is just about right for this particular launch, as a November arrival would provide additional cause for excitement alongside the Xbox One X. The console's exclusives are pretty slim right now, so, hopefully, decades-old games will be enough to tide folks over until Crackdown and Gears finally arrive. Also worth noting is that Xbox 360 backwards compatibility began in November the year it launched so, again, the arrival of OG Xbox games next month would offer some nice symmetry.
We feel it's important to reiterate that this is just a rumor for the time being. It's a rumor that seems very likely, sure, but Microsoft has not confirmed anything at this time. Feel free to share your thoughts and your back-compat wishlist in the comments below.
Your Daily Blend of Entertainment News
Staff Writer for CinemaBlend.