Earning Trophies Can Now Earn You Discounts In The PlayStation Store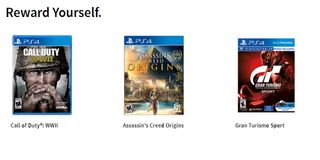 (Image credit: Sony)
If there's one thing gamers absolutely love it's being able to earn things while playing a game. Whether it be cosmetic rewards, score, or in-game currency, getting rewarded for completing tasks is always a huge boon to those who play. Well, Sony is taking that a step further by allowing you to retrieve real world discounts based on your in-game performance.
Over on the Sony Rewards website, there's a detailed rundown of the new Sony Rewards account, where you can link your PlayStation Network ID to the service and begin to receive rewards for simply using PlayStation services, spanning the likes of the Trial Blazer, Entertainment Trifecta, Silver, Gold and Platinum Trophies, Digital Trilogy, and the Triple Feature pass.
The one pass that probably looks most delectable to gamers is the Trophy pass, which will garner you 100 Sony Reward points if you get 100 Silver Trophies across multiple games, 250 Sony Reward points if you get 25 Gold Trophies across various games, and 1,000 Sony Reward points if you can manage to get 10 Platinum Trophies across various games. Now, the last one is going to be tough because that means you not only had to beat the game but also get all of the Trophies therein. It's basically a sign of being the best of the best when it comes to playing PlayStation games.
This would also probably explain why Sony was so adamant on chastising that one studio for allowing gamers to get a Platinum Trophy with just a few minutes of play.
You'll also earn rewards for doing things like subscribing to three PlayStation Network services, or signing up for four different free trials on the PlayStation Network. The latter task will net you an instant 15% discount on any purchase from the PlayStation Store.
And, speaking of the PlayStation Store... you can use the points you rack up to purchase games, apps and dynamic themes for your PlayStation 4. As the header image suggests, you can grab top-name AAA titles like Call of Duty: WWII, or Assassin's Creed: Origins or Gran Turismo Sport using your reward points.
It's not just the standard AAA titles up for grabs, games like Marvel vs Capcom: Infinite can be redeemed as well, along with EA Sports' FIFA 18.
So, how many points do you need to retrieve these big-name games? Well, in the case of FIFA 18 you'll need 5,999 reward points. So that means you'll have to get about 60 Platinum Trophies.
This new tactic to keep gamers hooked on the PlayStation Network is actually part of Sony's wider plans that the company recently mentioned during an investor call, where it was mentioned that it was important to focus more on the monthly active user growth of PSN users rather than individual product sales.
The Sony Rewards program is definitely an initiative that will keep some users engaged with PSN quite actively throughout the month, especially if it means being able to get a free game by simply playing other games. Of course, it will require a ton of Trophies and a whole lot of grinding if you want enough points to buy your favorite game.
Your Daily Blend of Entertainment News
Staff Writer at CinemaBlend.