Assassin's Creed: Origins Trials Of The Gods Event Is Now Available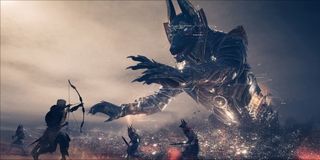 (Image credit: Ubisoft)
Ubisoft wasn't content with simply launching a new single-player game in the form of Assasin's Creed: Origins. The company also wanted to take some liberties by adding some special events to the game for players to encounter, starting with the Trials of the Gods.
Over on the official Ubisoft web portal for Assassin's Creed there's a post about the Trials of the Gods, where players will have to face off against challenging foes in a series of tasks that will put their skills to the test.
The first trial is the Trial of Anubis: The God of the Dead, where players will take Bayek to a glitch in the Animus where Anubis and his minions must be defeated.
If you've already conquered the game you'll find a special mark on your world map that will lead you toward Anubis' location, where you can start the challenge event.
This is a combat-related trial so you'll need to get good at mastering the new hit-detection combat system present in Assassin's Creed: Origins. This also means that you'll need some fairly decent gear to boot if you want to take on Anubis in the Animus glitch and his minions.
However, if you are successful in defeating each of the gods during the trials, you will earn a rare god-themed piece of gear. I imagine this would also make the gear god-tier? It would only make sense.
For each god you defeat you will earn a single piece of gear until you unlock the full god-tier set.
According to the post, you will only earn a rare god-themed item once per event. In this case, the post indicates that a weapon will be unlocked once completing the trial. This will only happen the first time you beat the event, and you won't be able to unlock additional gear if you replay it.
Essentially, there will be a total of four trials. If you manage to successfully complete all four of Assassin's Creed: Origins' trials you will receive a special god-tier weapon from each and once the set is complete it will unlock a special legendary outfit for Bayek to wear.
Ubisoft has plans on hosting three more trials in the future, and you'll have to keep your eyes open for when the next series of events will be made available.
It sounds like the next events will take place in the game before Ubisoft announces them, as the post rounds out by saying that players should keep an eye out for glitches in the Animus to partake in the next series of events.
Previous Assassin's Creed games also had lots of special hidden secrets sprinkled throughout the game map. Usually it required exploring the map and attempting to find their location or following certain clues, but this time Ubisoft decided to advertise that the event is available and can be played right now.
You'll only have a week to complete the event, however. It will run from November 7th through November 14th, so work fast if you want to unlock the legendary outfit in Assassin's Creed: Origins.
Your Daily Blend of Entertainment News
Staff Writer at CinemaBlend.