Nintendo Switch Finally Gets A Major Streaming App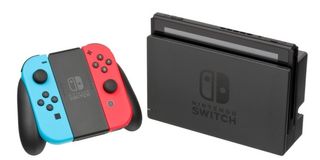 One of the largest and most vocal complaints from a bevy of gamers ahead of the Switch's launch and shortly after the Switch launched, was "Where are the streaming apps?" I personally was not one of those people yelling for more non-gaming apps on a hybrid game console, but for the people who clamored for one, you've now got it in Hulu.
Over on the official Hulu website, the company announced that Hulu is the very first US-based streaming service that is now available as a fully functional non-gaming app for the Nintendo Switch.
You can download the app right now by booting up your Nintendo Switch, going to the Nintendo eShop and if you look for new software from the tab on the left, it will show that Hulu is ripe and ready to download... for free.
It will take you about a minute or two to download the app, and once it's done you simply click on the app from the Switch's main menu and it will take you right in. If you already have a Hulu account, you just click on the log-in button and you're good to go. If you don't have an account, you can actually start a free trial before you commit to any of the monthly plans, which start at $5.99 for a limited time.
If you don't get in on the $5.99 deal you'll have the core option available for $7.99 a month, or you can pay up to $39.99 for a Hulu live TV plan, which includes options for premium cable channels such as HBO, Cinemax and Showtime.
No matter what your plan involves, Hulu caters to audiences from top to bottom with more than 50 of the top channels and broadcasts to select from, ranging from ESPN, Fox Sports and CNN, to FX, Bravo, TNT, CW, and FS1.
There are also packages available for specific viewing habits depending on what you enjoy watching, from The Handmaid's Tale and Black Sails to Archer and This is Us.
Don't think that the non-gaming apps start and end with Hulu, though. There have been sizable groups of consumers begging for Netflix and HBO Go for the Nintendo Switch as well. Above all else, Netflix has definitely been one of the most requested apps for the Nintendo Switch.
Some reviewers earlier in the year noted that a huge negative for the Switch was not being able to stream television shows and movies out of the gate, especially when those services were available on the PlayStation 4 and Xbox One.
However, it should be noted that the PS4 and Xbox One didn't launch with a full suite of non-gaming apps out of the gate. It took some time to properly implement those features and add additional support for music streaming, TV streaming, and movie streaming. In fact, during the early days of the eighth gen, the PS3 was still the go-to platform for most multimedia needs.
Nevertheless, with Hulu now on the Nintendo Switch, it assuages some of the early complaints leveled at Nintendo when the Switch launched back in March. Expect others like Netflix, Twitch and YouTube to follow suit soon after. And, just as a friendly reminder, the Hulu app is available right now as a free download from the Nintendo eShop.
Your Daily Blend of Entertainment News
Staff Writer at CinemaBlend.