What's New In The Nintendo Switch 3.0 Update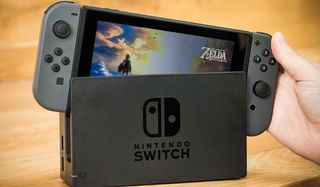 The Nintendo Switch operating system has officially been updated to version 3.0.0 and, unlike previous updates, this one actually makes a few nice changes to the way folks can use the console.
While this latest Switch update certainly has the standard stability and security tweaks you would expect from a system refresh, it also includes things that folks will actually consider useful. Nothing here is going to greatly change the way average folks play Zelda or Arms, and it doesn't seem like Nintendo is necessarily paving the way to bigger, better things in the future, but we'll take subtle advancements over nothing at all.
Included in this latest update are options to locate your Joy-con controllers by making them vibrate, the ability to attach a keyboard through the dock's USB port, a couple of new profile icons from Splatoon and even the ability to add friends from your Wii U or 3DS friends list who also own a Switch. That last one is especially helpful, as you otherwise need to rely on Nintendo's boneheaded friend codes. Oh, and you can now subscribe to news feeds for games you are especially interested in. That probably isn't a big deal this early in the game, but it will probably keep your Nintendo news feed more relevant as the months wear on.
To update your Switch, simply boot up the console, head to settings tab and visit "System Setting." From there, you can choose to manually update the console. Otherwise, just play like normal and the console will download the update itself at some point. Nothing here is worth rushing for but, again, there are a few nice tweaks. Here's the rundown.
Switch update 3.0.0
*Register a channel to receive News for specific games
To register, head to News > Find Channels
*Add friends from your Nintendo 3DS and Wii U Friend Lists
To add friends, head to your My Page on the top left of the Home Menu > Friend Suggestions
*Receive notifications when your Friends go online
To turn this ON/OFF, head to System Settings > Notifications > Friend Notifications
*Find paired controllers within communication range by activating the vibration feature
To search, head to Controllers > Find Controllers
*Change the user icon order on the Home Menu
To change order, head to System Settings > Users > Change Order
*Select from 6 new Splatoon 2 characters for user icon
To edit your user icon, head to your My Page on the top left of the Home Menu > Profile
*Change the system volume from the Quick Settings
To access Quick Settings, hold down the HOME Button
*Lower the maximum volume for headphone or speakers connected to the audio jack
To lower the max headphone volume, head to System Settings > System > Lower Max Headphone Volume (This settings will be ON when Parental Controls are enabled.)
*Change display colors to Invert Colors or Grayscale
To use this feature, head to System Settings > System > Change Display Colors
*Use the Nintendo Switch Pro Controller via wired communication by connecting the USB charging cable
To enable, head to System Settings > Controllers and Sensors > Pro Controller Wired Communication (The NFC touchpoint on the Pro Controller will be disabled while the controller is using wired communication.)
*Update connected controllers
To update, head to System Settings > Controllers and Sensors > Update Controllers
*Added a feature that suggests deletion of software data if there is insufficient space when downloading other software
To use this feature, head to System Settings > Data Management > Quick Archive (User save data is not deleted.)
*General system stability improvements to enhance the user's experience
Including: Resolved an issue that caused game software updates to fail and prevented the software from starting; improvements to prevent unintended HDMI input change with certain TVs while the console is docked in Sleep Mode
Staff Writer for CinemaBlend.
Your Daily Blend of Entertainment News
Thank you for signing up to CinemaBlend. You will receive a verification email shortly.
There was a problem. Please refresh the page and try again.