Super Mario Run And Odyssey Are Crossing Over, Here's How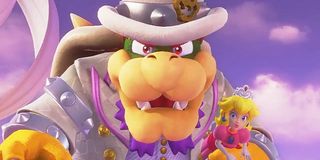 If you're looking for a good reason to dive back into Super Mario Run, Nintendo may have provided exactly that. They recently announced a crossover event with Super Mario Odyssey, offering a bunch of free items to decorate your virtual space.
Nintendo took to Twitter this weekend to reveal what they're calling the "Super Mario Run + Super Mario Odyssey crossover event. We're probably reading between the lines here, but that "+" in the title has us wondering if maybe a Rabbid-themed crossover is also on the way. But enough speculation, let's get to the digital goods.
According to the tweet, anyone who logs into Super Mario Run by 11 p.m. on Nov. 14 will get their hands on an in-game statue featuring Mario in a white tuxedo. If you've played through Super Mario Odyssey, you'll definitely recognize those new duds.
But Nintendo isn't stopping there with the promotion, as they intend to keep bringing players back on a regular basis. Once the Mario statue drops out of the rotation, one for Pauline will take its place, this one is available until 11 p.m. on Nov. 19. In case you're not up on the Mario lore, Pauline was the woman Mario saved from Donkey Kong way back in the arcade days. She's appeared a couple of times since then, but Nintendo gave her a pretty great role as the all-singing, all-dancing mayor of New Donk City in Odyssey. While Mario is in a tux, Pauline is wearing her trademark red hat and dress.
But that doesn't mean the wedding party is complete. Once Pauline drops out of the rotation, you can grab Bowser in his wedding attire until 11 p.m. on Nov. 23. Finally, Peach will be on display in her wedding dress through 11 p.m. on Nov. 27.
As a reminder, these statues don't give you any in-game bonuses or anything like that. Instead, they can be used as decorations to help personalize the world you're rebuilding while doing all of that sprinting and leaping in Super Mario Run.
Still, if you haven't been back for a while, there's still some fresh content to play. Nintendo introduced an update for SMR a few weeks back, which brought in some new playable characters and a new world to dash through.
We're still a little confused by Nintendo's expectations for the game, though. Rather than go the full free-to-play route, they instead charged a flat fee for Super Mario Run. That route usually doesn't translate to great success for mobile games but, powered by the mustachioed mascot, the game went on to sell more than 200 million copies. Despite all of that, Nintendo is not yet pleased with the sales the game has made. That probably explains why games like Fire Emblem Heroes and the upcoming Animal Crossing Pocket Camp boast microtransactions aplenty.
Staff Writer for CinemaBlend.
Your Daily Blend of Entertainment News
Thank you for signing up to CinemaBlend. You will receive a verification email shortly.
There was a problem. Please refresh the page and try again.