Why Star Wars Battlefront 2 Couldn't Have Only Cosmetic Loot Boxes, According To EA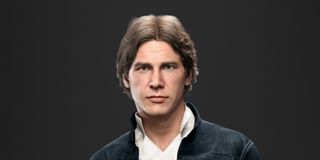 (Image credit: Electronic Arts)
During the whole loot box fiasco involving Star Wars: Battlefront II, one of the common questions was: instead of having players pay-to-win through microtransactions why not just let them unlock new costumes through cosmetic loot boxes? Well, EA finally answered that question, but it may not make a lot of sense to diehard fans.
EA CFO, Blake Jorgensen, mentioned during the Credit Suisse 21st Annual Technology, Media & Telecom Conference (via GamesIndustry.biz) that the reason Star Wars: Battlefront II doesn't have cosmetic loot boxes is because Vader in pink isn't part of canon...
Previous to that comment, Jorgensen tried to explain what EA's approach was to including pay-to-win mechanics in Star Wars: Battlefront II instead of just using cosmetic loot boxes like in Overwatch. According to Jorgensen, he claims that some people don't have time to play games, so EA wanted to have microtransactions balanced so that for those people who don't have time they can just pay not to play the game by purchasing microtransactions to speed up progression and instantly unlock more powerful equipment.
Jorgensen side-steps any of the current serious threats of legislation possibly looming over the use of premium loot boxes in AAA games by saying that the only reason EA removed the microtransactions was due to consumer complaints. There are reports indicating that Disney gave EA a call in light of lawmakers and gambling commissions chiming in on loot boxes potentially being a form of gambling.
Nevertheless, Jorgensen's comments about not using cosmetic loot boxes due to canon was the same excuse EA used before with not including content from Star Wars: The Force Awakens and The Clone Wars stating that it would disrupt canon, even though there was no canon in the 2015 outing of Star Wars: Battlefront since it had no story mode and did not have a story to tie into any of the movies. In fact, there were lots of canon-disruptive elements in the game, such as certain heroes appearing on certain maps, and wearing certain outfits on certain planets that broke with lore. For instance, the Battle of Jakku in the game featured Boba Fett, even though he wasn't even part of that fight.
The whole canon thing also loses weight when others have rightfully brought out that the cosmetics could have been based on the canon-outfits from the Star Wars universe: Vader with and without his mask, damaged Vader, young Luke, Jedi Luke, starfighter Luke, Leia in her princess garb, Leia in her Hoth gear, or General Leia. The developers could have avoided any lore-breaking cosmetic outfits and focused solely on what appeared in the films.
There were plenty of options to include cosmetics in Star Wars: Battlefront II instead of allowing people to pay for upgrades to get an advantage over other players. Nevertheless, it appears cosmetic loot boxes is something EA simply had no interest in at this time.
Staff Writer at CinemaBlend.
Your Daily Blend of Entertainment News
Thank you for signing up to CinemaBlend. You will receive a verification email shortly.
There was a problem. Please refresh the page and try again.