How Cuphead's New Patch Aims To Help Gameplay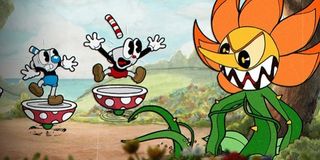 Cuphead is already tough as nails, so things like bugs and glitches making it even more difficult aren't exactly welcome "features." Thankfully, the developer has been quick with a hefty patch that should address many of the game's lingering issues, as well as spruce up the already impressive visuals.
Cuphead launched for Xbox One and PC a couple of months back and quickly burrowed into the hearts of gamers everywhere. It's got an insanely charming old-school cartoon aesthetic that's almost in direct contrast to its now notorious difficulty. Fans love just about everything the game has to offer. Still, no game is perfect and Cuphead still suffers from some exploits and obnoxious hiccups in gameplay.
Based on a recent MDHR blog post, however, it looks like a whole bunch of the kinks are being ironed out of Cuphead, as the developer reveals update v1.1.3. Along with tweaking the gameplay balance, bugs will be squashed and the animations will be improved.
-Fixed various freezes caused by controller disconnection/reconnection.
-Fixed infinite controller rumble bug.
-Fixed various freezes and soft-locks and crashes.
-Improvements to saving and loading.
-No longer possible to create a Mugman army.
-Fixed rapid-weapon-swap damage glitch.
-Slight charge weapon damage reduction.
-Charge weapon charge is now maintained during parry.
-It is now possible to unequip secondary weapon, Super, and Charm from equipment menu (Press "Y" to unequip).
-Mr. Chimes no longer gets stuck or goes off-screen.
-King Dice's Start Over square will now only trigger once per attempt.
-Player 2 now appears in the King Dice board after being revived at the end of a mini-boss level.
-Dice Palace score now properly resets when retrying the level.
-Fixed improper hit boxes on the Devil's snake attack.
-Fixed Devil's goat attack so it hits ducking players.
-Elevator on Rugged Ridge no longer locks if Player 1 dies.
-A+ grade now possible on Funfair Fever and Treetop Trouble.
-No longer possible to damage bosses that are off-screen.
-Fixed rare crash when parrying on Carnival Kerfuffle.
-Fixed Roundabout shots not coming back on screen on select stages.
-Baroness Von Bon Bon death results now properly displays progress on phase 3.
-Dr. Kahl's Robot death results now properly displays progress on phase 1.
-Fixed various minor collision bugs.
-Various art and animation polish.
-Minor sound effect bug fixes and polish.
-Added spooky Mausoleum announcer.
-Touch fuzzy, get a little dizzy.
That's a pretty impressive set of fixes, especially for an indie game. But Cuphead has already been extremely successful, so we don't blame the team for wanting to put in the extra work to make sure everything is as smooth as possible before the holiday season. Also, they added a "spooky Mausoleum announcer," which sounds like a pretty rad surprise for folks who want to change the way the game sounds.
The nice thing about Cuphead's popularity is that all of those folks playing and streaming the game made it easy to track and verify all of the bugs and exploits listed above. Sure, they were probably frustrating to deal with when they popped up, but now there should be much fewer problems while running, jumping and shooting your way through one of 2017's top indie darlings.
Your Daily Blend of Entertainment News
Staff Writer for CinemaBlend.