Ubisoft Is Giving Away Assassin's Creed: Black Flag And World In Conflict For The Holidays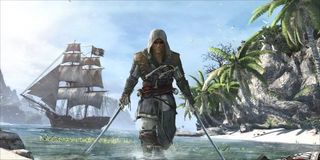 (Image credit: Ubisoft)
One of the things that a lot of gamers never get tired of is free games. In fact, it's the one thing that you probably won't hear gamers complaining about when they find out that a big name game is being given away for free. Well, Ubisoft is giving away Assassin's Creed IV: Black Flag and the RTS game World In Conflict for free.
You'll have between December 4th and December 11th to grab a copy of World in Conflict from Uplay from the Ubisoft event page. Black Flag will be available December 11th to 18th.
Ubisoft announced that two free digital PC games will be given away for free as part of the holiday festivities. So what's required to get your hands on the content? Nothing much, just a Ubisoft Uplay account and a working PC that meets the minimum requirements for both games. Given that both titles are fairly "old" in the realm of technology, anyone with a decent mid-budget PC made within the last five years should be able to run both titles without too many problems.
In fact, World In Conflict came out way back in 2007. So obviously most PCs still in circulation these days shouldn't have too many problems running the game. The real-time strategy title is set during the Cold War, and players will attempt to fight across an occupied America who has been stormed by Soviet Russia. With the world being overtaken by the red army, it's up to players to muster the military might of the United States Army and fight back to free the world of the communist Russians and their massive army during a fictional World War III setting.
The game was notable for its highly advanced visuals at the time, running on the MassTech engine technology and sporting some visually spectacular physics effects and destruction as players tore across the United States in hopes of taking out the Russian invaders.
Assassin's Creed IV: Black Flag takes a less stressful route to conflict resolution by allowing players to hop into the role of a pirate and sail the high seas as a highly skilled Assassin. The game took a lot of what Ubisoft completed in Assassin's Creed III and then elevated it to the next level by improving on the naval aspects, adding more ship upgrades, allowing players to transition between naval combat and ship-to-ship boarding, as well as focusing on the beautiful isles off the coasts of developing nations.
The game is set during the age of sail, and was remarkable enough for its technical and graphical achievements, so much so that it won multiple awards and managed to sell millions of copies.
It's no surprise that Ubisoft would give away two of its most celebrated games over the last decade, both of which have managed to avoid being in the spotlight for detracting qualities that stripped away from the gameplay experience, something Ubisoft encountered with heavily downgraded games like Watch Dogs and The Division.
Nevertheless, if your PC library is looking a little thin, you can grab both World in Conflict right now from the Ubisoft Uplay store for free with Assassin's Creed IV coming soon.
Staff Writer at CinemaBlend.
Your Daily Blend of Entertainment News
Thank you for signing up to CinemaBlend. You will receive a verification email shortly.
There was a problem. Please refresh the page and try again.