No World In Conflict: Soviet Assault For Consoles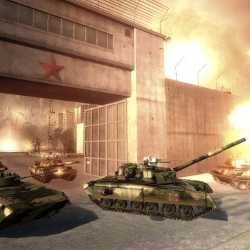 When World In Conflict: Soviet Assault was first announced, it was slated for the PS3, PC, and Xbox 360. Now, it looks like it'll only be arriving on the PC. Wait, a game whose console versions get canned while the PC version is saved? That's a switch.
"World of Conflict: Soviet Assault will be released for the PC later this month. A console version of World in Conflict is not planned for release at this time," said publisher Ubisoft when contacted by IGN. Soviet Assault is an expansion pack for the 2007 PC game World In Conflict. It was going to be a standalone title for the PS3 and 360 as neither console received the original World in Conflict.
Soviet Assault was one of many titles dropped from Vivendi's publishing roster when it merged with Activision to form Activision Blizzard last summer. Ubisoft purchased World in Conflict developer Massive Entertainment in November and apparently decided a real-time tactics game would be better off as a PC exclusive. If I'm not mistaken, Swordfish Studios was supposed to pitch in with the console versions but they were acquired by Codemasters back in November so that may have contributed to Ubisoft's decision to go PC-only.
Staff Writer at CinemaBlend.
Your Daily Blend of Entertainment News
Thank you for signing up to CinemaBlend. You will receive a verification email shortly.
There was a problem. Please refresh the page and try again.