5 Biggest Breakout Hits Of 2017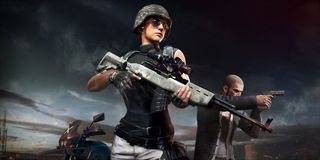 Not every game is designed to be a massive breakout hit, but just about every developer hopes that their game will become a massive success when released. Some games are made on modest budgets with modest aims but end up selling like crazy, such as Rocket League. Well, the new year is getting underway, there were a handful of games that managed to depart from the typical model and reach new heights without the standard AAA marketing scheme. Not only that, but there were some surefire original ideas that really stood out as the top 5 breakout hits of 2017.
5. Getting Over It With Bennett Foddy
This has to be one of the oddest games ever released, ever. Getting Over It With Bennett Foddy is an exercise in frustration that also seems to be a simulator for testing your patience. The platformer came out of nowhere and ended up becoming a huge hit with streamers and YouTubers who played the game for their audiences, revealing a completely insane game where you take a man in a pot who must ascend impossibly difficult obstacles using a sledgehammer. The game has already gone on to sell more than 300,000 copies in two weeks, according to Steam Spy. No advertising campaign, no big marketing budget, and nothing but word of mouth helped the game sell like crazy as an end-of-the-year surprise breakout hit.
4. Hellblade: Senua's Sacrifice
Ninja Theory's Hellblade: Senua's Sacrifice ended up being a surprise hit in the late summer, early fall season. The game came out for both PC and PS4, and ended up selling nearly half a million copies across both platforms within three months. While that may not sound like a whole lot for a game from a company as prestigious as Ninja Theory, the reality was that the game was a budget-priced title, a single-A game so to speak, but it had triple-A ambitious. Using the Unreal Engine 4 in new ways to improve the way performance capture process works, and collaborating with 3Later and Cubic Motion, along with iKinema to develop an injector for the Unreal Engine that could drastically cut down on the production time of big and small games alike. Despite not having a major publisher backing it, Hellblade turned out to be a big success for Ninja Theory.
3. A Hat In Time
Gears For Breakfast's A Hat In Time was essentially a low-budget, crowdfunded game that came out of nowhere. The Unreal Engine 3-powered platformer is unlike almost every other game that came out this year save for Super Mario Odyssey. That's right, the game is like a cheery throwback to the old-school N64 classics that put smiles on kids' faces and made gamers feel joyous to be part of the ever-expanding hobby. The game has been selling quite well across multiple platforms since its release in October. It's also been receiving rave reviews both from critics and gamers alike. It didn't have much of a marketing campaign, but it's easily become one of the most endearing breakout hits of 2017.
2. Battlerite
Stunlock Studios' Battlerite officially launched back in November of this year after spending a year in Early Access. The full launch resulted in the game exploding in popularity, helping push the title into the clouds with more than 4 million players having taken part in the PvP MOBA title. While it may have been in Early Access since 2016, it wasn't until its official launch in November of 2017 did more than 3 million gamers join in on the action. The free-to-play title practically came out of nowhere after bubbling in popularity beneath the surface. The game doesn't appear to be slowing down and could end up being an even bigger smash hit by the time 2018 rolls around.
1. PlayerUnknown's Battlegrounds
Could there be any other game on this list in the number one spot other than PUBG Corp and Bluehole Studios' PlayerUnknown's Battlegrounds? The game launched in March of 2017 and ended up going on to become the best selling game of the year, moving more than 25 million units over the course of the year on PC alone, and an additional 1 million copies on the Xbox One. The game came out of nowhere, literally, just entering into Early Access as a title based on the Arma mod. However, no one could have known just how big this game would be by introducing 100 players attempting to survive on a small sandbox island, but PUBG Corporation achieved a real breakout hit with PlayerUnknown's Battlegrounds.
Your Daily Blend of Entertainment News
Staff Writer at CinemaBlend.
Your Daily Blend of Entertainment News
Thank you for signing up to CinemaBlend. You will receive a verification email shortly.
There was a problem. Please refresh the page and try again.