The New Trailer For Hellblade: Senua's Sacrifice Is Disturbing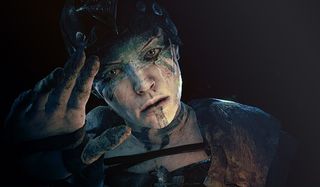 Set to arrive this fall, Hellblade: Senua's Sacrifice is looking more and more mind-bending the closer we get to launch. And the latest trailer for the game is the trippiest yet.
When Ninja Theory first announced Hellblade, many assumed it was the sequel to their PlayStation 3 action romp, Heavenly Sword. Hellblade's protagonist looked an awful lot like the sidekick character, Kai, from Heavenly Sword at first glance, and then there's the odd similarity between the game's names.
Ninja Theory quickly squashed those rumors, though, explaining that Hellblade will be a smaller game, in a completely new setting, and a story that dives into the concept of mental illness. They've released a few trailers since the game's initial reveal, but the recently revealed "Hela Trailer" certainly plays up how disturbing the game might get.
The opening line is "hell is reaching deep inside of her," after which we're presented with a look at Senua, clearly destressed but ready for a fight. You'll want to make sure the volume is turned up, as the trailer provides us with a sampling of the tormented voices that are apparently running through Senua's mind at all times. Then things take a turn for the visual, with a creepy-as-hell figure crawling out of a swirling black mist before it and our protagonist take a swipe at each other.
Hellblade is now available for pre-order, and it's going for $29.99 on PlayStation 4 and PC. It feels like we've been following this game for a good long while now, so hopefully that means we've got something special on our hands. The game finally launches on Aug. 8. If you're willing to drop your cash early, you'll get a dynamic theme on the PlayStation 4 or a digi-comic on the PC. And speaking of PC, the game will be available through Steam or GOG.
I'm actually a big fan of Ninja Theory and one of those people who really, really wanted Hellblade to turn out to be a Heavenly Sword in the early goings. Now, though, I'm far more interested in hearing what Senua has to say. While we still haven't seen much about what the gameplay will be like, I'm all for more experimental, smaller games that dive into complex themes.
Over on the official website, Ninja Theory is touting a game that's independent, but still boasting AAA qualities. The background information states that the team wanted to create "a more focused game experience that isn't trying to be all things to all people." We're always excited to see teams that are used to working on bigger projects zoom in their scopes a bit and tackle something a bit more personal, and Hellblade certainly seems to be exactly that type of game.
Staff Writer for CinemaBlend.
Your Daily Blend of Entertainment News
Thank you for signing up to CinemaBlend. You will receive a verification email shortly.
There was a problem. Please refresh the page and try again.