Hellblade Senua's Sacrifice Just Hit A Major Milestone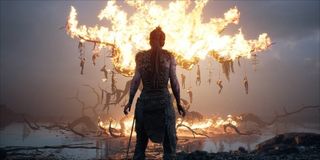 Ninja Theory's Hellblade: Senua's Sacrifice was billed as an AAA quality game working on a single-A or AA quality budget. The idea from the studio was to explore making a cinematic quality game on a low budget and (at least) break even, and according to the latest update from the studio, it managed to do so in record time: just three months.
The video was posted on the official Ninja Theory YouTube channel, where the company talked about how the game was financed, how much came out of the studio's own pocket, and how many copies needed to sell before the expenses and loans were paid off and the company broke even. Creative director Tameem Antoniades explained...
Now, to be fair, we don't actually know the stats on how many studios from the different economic tiers have broken even or posted profits from games released in the indie, single A, AA, and AAA markets. So, it's not entirely possible to know if it's true that few studios actually ever break even.
What we do know is that Hellblade: Senua's Sacrifice managed to move nearly 500,000 units within the span of just three months, after launching in August for PC and PS4. The game was only made available digitally as a way to reduce the cost of distribution and manufacturing, and gamers were able to pick up the game from outlets like GOG.com, Steam, and the PlayStation Store.
According to the developer diary, the studio managed to rack in $13 million over the course of three months. And this was enough to put the studio in the black on a three year development cycle with an average team size of just 20 people.
It also probably helped to cut down on costs by using an in-house actress as the lead instead of tapping Hollywood talent, similar to what EA and Activision are keen on doing for games like Battlefield, Call of Duty, or recent releases like Star Wars: Battlefront II.
The developer diary covers how it's possible to make high quality games on lower than usual budgets by cutting appropriate corners here and there. Not every game needs a production and marketing budget of more than $250 million like Grand Theft Auto V.
Utilizing the Unreal Engine 4 and its ability to render cinematic-quality graphics in a realtime runtime environment also helped cut down on costs considerably, since the team was able to do the performance capture and make the tweaks in the exact same environment as the core gameplay. This created a seamless blend of cinematics and actual gameplay in Hellblade that didn't require a multitude of teams to optimize.
The milestone for Hellblade means that Ninja Theory gets to keep making games, and the studio still has plans for more of Hellblade. Whether or not it will still star Senua is up in the air, but its early success means that it has paved a way for a new kind of monetary system to work when it comes to building games.
Your Daily Blend of Entertainment News
Staff Writer at CinemaBlend.