The Part Of Breath Of The Wild That Needs To Continue In Future Zelda Games, According To The Producer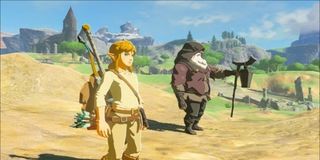 (Image credit: Nintendo)
There are certain things that people absolutely loved about the Legend of Zelda: Breath of the Wild for the Wii U and the Nintendo Switch, and there are some things people loathed about the game. Well, the producer revealed exactly what will be coming back no matter what.
Speaking with IGN, executive producer Eiji Aonuma made it known exactly what feature he wants to see return in new Legend of Zelda games, and it's most definitely the open-air concept...
It's interesting, because there was always some measure of freedom in Legend of Zelda games, just not to the degree that was present in Breath of the Wild.
The closest we've had to the recent Wii U and Switch outing would be Legend of Zelda: Wind Waker, which had an open-ocean theme to it, with players sailing across islands in a giant sandbox in order to complete missions and conquer the game. It was definitely one of the more popular outings in the series and also had one of the more remarkable art-styles, given the chibi cel-shaded look.
However, it was The Legend of Zelda: Breath of the Wild that really ramped up the concept to the next level, offering gamers a truly open-world from start to finish with the ability to explore the entire map using a variety of means of travel and a strong focus on relying on the open-air design to glide across the map.
However, the series had always pushed for some element of open-world exploration, even going as far back as the old NES days, where Link would move throughout a large world connected by single-screen maps that would scroll over to access the next map. Nintendo finally did away with the screen-scrolling by the time The Legend of Zelda: Ocarina of Time came around for the N64. At the time, it was as revolutionary for the company during that generation as Breath of the Wild has been for this generation.
Ocarina of Time was the first 3D Zelda game that featured 3D sandbox maps for Link to explore. This was a revolutionary step forward for the company that persisted for the newer games made on the home consoles since then. It now appears as if Breath of the Wild is the next step in evolving the series as it moves forward.
Nintendo already confirmed that Aonuma's team is hard at work on the next Legend of Zelda game, but we have no idea what it is or when it's coming out. Given the standard development cycle for most games in the series, don't expect a new title to arrive until Nintendo is ready to unleash its next home/portable console.
Staff Writer at CinemaBlend.