Legend Of Zelda Trailer Teases Ocarina Of Time Live-Action Short Film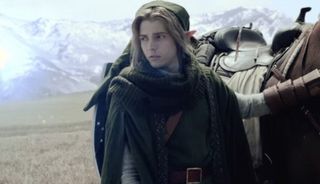 The folks at The Zelda Project have released a trailer for their upcoming Zelda-themed short film. The two-and-a-half-minute video follows Link on the road to a showdown with Ganondorf, teasing the final battle from Ocarina of Time.
And if you like watching people ride horses, you're going to love it:
The Zelda Project has been around for nearly ten years but didn't pick up speed until 2008. Most of the group's ventures revolve around Cosplay, with a short film being the ultimate goal.
According to the their website, though, the members originally planned to make a fake movie trailer. But in 2008, IGN released a similar video as an April fools joke, which took the wind out of The Zelda Project's sails. So, they went back to the drawing board, eventually deciding to tackle a short film project.
I'm sure the hardcore Zelda fans only have one question on their minds: will Link speak? Link's voice box is always a central concern to any non-gaming, zelda-centric project. And the answer, according the The Zelda Project's FAQ, is… maybe?
I'll let them explain:
Details on the film are light at this point. But, judging from this week's trailer and the group's website, it sounds like The Zelda Project is gearing up for a Kickstarter campaign. This could be tricky, though. Nintendo isn't particularly generous about unauthorized character usage.
Last year, the publisher shut down a crowdfunding campaign that was attempting to raise $90,000 for a 10-minute Metroid film. And in 2010, Nintendo squashed a feature-length movie called The Legend of Zelda: Hero of Time. Though, it is available on YouTube.
The problem is compounded by the fact that Nintendo and Netflix are currently working on their own live-action interpretation of The Legend of Zelda. The series is still in the early phases of development, but publishers are often worried about something called "Brand Confusion." This happens when customers can't tell if a product is legitimate or counterfeit.
To avoid any confusion, unauthorized films are typically suppressed. So, even if the trailer generates enough interest to fuel a crowdfunding campaign, The Zelda Project's film has a rough road ahead.
Your Daily Blend of Entertainment News
Thank you for signing up to CinemaBlend. You will receive a verification email shortly.
There was a problem. Please refresh the page and try again.