LEGO Marvel Super Heroes 2 Reveals Champions Character Pack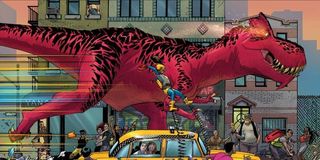 (Image credit: Warner Bros)
Warner Bros. Interactive Entertainment and TT Games have a new set of DLC on the way for gamers who picked up a digital or physical copy of LEGO Marvel Super Heroes 2. The new content will be available soon and will be fairly cheap, giving gamers access to some of Marvel's lesser-known heroes.
According to TT Games, the DLC pack will cost $1.99 and will feature some of the characters from Marvel's comic book, Champions. This includes characters such as Amadeus Cho, who is the new version of the Incredible Hulk on Earth-616, a Korean-American superhero who replaces Bruce Banner. Gamers will be able to take on the "Totally Awesome" Hulk when Cho arrives as part of the new DLC.
Cho will be accompanied by the hero Nova, also known as Richard Rider from Earth-616. He's a member of the highly revered Nova Corps and has the ability to utilize supersonic flight. This will come in handy for those flying levels in LEGO Marvel Super Heroes 2. Nova comes from the planet Xander and is going through the process of becoming an elite, last remaining member of the Centurions. Nova is a troubled hero with a ton of power, making him one of Marvel's strongest heroes, but it comes with a severe disadvantage in the form of being subjugated to the Worldmind.
The DLC pack will also feature a second Wasp, this time in the form of Nadia Pym. This will give Wasp fans from the Ant-Man series something else to write home about. And there's also Devil Dinosaur, and Moon Girl who will make the cut, too, along with Viv.
If you're a fan of the new Kate Bishop version of Hawkeye, she will also be part of the Champions pack for LEGO Marvel Super Heroes 2 following her run in her own spin-off comic. They're also introducing Ironheart into a video game for the first time as a playable character. Ironheart is Riri Williams, the replacement for Tony Stark as Iron Man. Some fans have not been all that keen on Stark being replaced, but it was part of Marvel's initiative to reach out to new audiences through the comic book series. We're now starting to see some of those heroes from the comic books make their way into the new video games. It may just be a matter of time before they also start appearing on the silver screen as well.
The comic book, The Champions, is centered around young teenage superheroes who formed up after former members of the Avengers left to start their own group. The team consists of heroes who were disillusioned and distrustful of the current Avengers regime and wanted to prove their worth on their own terms.
The new character pack will be available as a separate release for $1.99 or you'll be able to grab it up as part of the LEGO Marvel Super Heroes 2 season pass, which is currently available for $14.99 or free for everyone who purchased the LEGO Marvel Super Heroes 2 Deluxe Edition.
The new DLC will be available for the Xbox One, PlayStation 4, PC version of the game, and for the Nintendo Switch.
Your Daily Blend of Entertainment News
Staff Writer at CinemaBlend.