Ubisoft Backpedals Plans To Up The Price Of Rainbow Six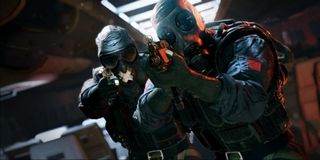 (Image credit: Ubisoft)
At this stage in the game, Rainbow Six: Siege is more than two years old. The game came out back at the tail end of 2015 and has been managing to grow its audience substantially over the last few years thanks to positive word of mouth and Ubisoft managing to produce lots of multiplayer content for the game on a regular basis. This led to Ubisoft considering upping the price for the game due to its increased popularity, but they have recently changed their mind.
In a post over on the Rainbow Six sub-Reddit, a Ubisoft community manager posted a response to the fury that was raised at Ubisoft for attempting to raise the price of the standard edition of Rainbow Six: Siege from $40 to $60. After nearly three years, the standard version of the game had decreased, but due to the game's popularity, Ubisoft had ventured to re-raise the price in order to make money on the standard edition for anyone who was new to the game and wanted to give it a test run at the lowered price.
However, a bunch of gamers got angry at this proposition and this forced Ubisoft to have to go back to the drawing board and come up with a new pricing strategy. In the post, the community manager explains that the pricing won't change, stating...
In addition to this, Ubisoft states that it will be rewarding long-time current players, allowing them to receive a free Ash Sidewinder Elite skin for free between January 26th and March 6th. So you have quite a bit of time to get your hands on a free Rainbow Six: Siege skin just for logging into the game. The skin will be handed out at the start of Year 3 Season 1 for the game.
Additionally, there were some issues that some gamers had with acquiring Operators in Rainbow Six: Siege and the studio acknowledged this, so Ubisoft is going back to the board on how to address it Apparently the company is working on making that process more "fluid."
Some of the other big concerns levied at Ubisoft was that the game seems to be repositioned around cosmetic loot boxes being a prominent way to unlock content in Rainbow Six: Siege, even for veteran players. As many of you already know, loot boxes have picked up an extremely negative connotation within the gaming community in recent months after their appearance in premium-priced games like Forza Motorsport 7 and Middle-Earth: Shadow of War where they could be used to improve performance and stats. This came to a head with Electronic Arts and DICE's Star Wars: Battlefront 2, which became so widespread across media that Disney reportedly had EA pull the premium loot boxes from Star Wars: Battlefront 2.
Despite growing its community over the last few years and finding a steady balance of retaining players while introducing new premium content, apparently Ubisoft wanted to try its hand at the riskier venture of loot boxes in Rainbow Six: Siege while also attempting to increase the standard edition price. It doesn't sound like the community is on board, though.
Staff Writer at CinemaBlend.
Your Daily Blend of Entertainment News
Thank you for signing up to CinemaBlend. You will receive a verification email shortly.
There was a problem. Please refresh the page and try again.