When Kerbal Space Program's First DLC Will Arrive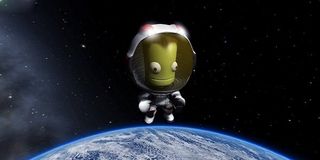 Kerbal Space Program's first major expansion is set to release soon, introducing some new gameplay elements to everyone's favorite spaceship-explosion-simulator. It's called "Making History," and it'll be heading our way on March 13.
We're only about a month out from the first big expansion for Kerbal Space Program, a game that was in early access so long it's hard to believe we're only just now getting DLC. That's not a knock against the game, though, as we're always fans of developers taking the time they need to make sure a game is solid before unleashing it upon the masses.
According to an update from the folks at Polygon, the update will go live on March 13, making "Making History" the first official chunk of DLC to get bolted onto the game since it hit Early Access on Steam back in 2013. A lot of major updates have been made to the game in that time, but those were all building toward the core Kerbal Space Program experience. This next update will go "one giant leap" further.
Based on an update from Take-Two, who acquired KSP about a year ago, this update will include a new Mission Builder mode for players to enjoy, as well as allow players to edit existing missions. Want to tone things down a bit or crank the difficulty up to 11? This update will let you do exactly that.
The Take-Two announcement said players will have control over many aspects of in-game missions, including launches, landings, rescues, malfunctions, explosions, repairs and more. You'll also be able to establish unique victory conditions, throw in extra challenges and obstacles along the way. Similar to games like LittleBigPlanet, players will then be able to share their creations online and challenge other players to complete their tasks. Just remember that there's nothing fun about the damn-near impossible. The sweet spot to keep your fellow players hooked rests somewhere in the middle, where creative solutions win the day...I'm just speaking from the deep-seeded frustration in LBP where some level creators thought the point was to beat the other players, not challenge them. But, I'm not still bitter or anything.
For those who prefer their content made by the professionals, this Kerbal DLC will also include the History Pack, which is a set of missions "inspired by humankind's own space exploration. If you've ever wanted to try and create historic events within KSP, now's your chance.
Currently, the DLC is only coming to PC, though we figure a launch for the PS4 and Xbox One will likely follow. It'll set you back $14.99 come March 13.
Your Daily Blend of Entertainment News
Staff Writer for CinemaBlend.