Rust Is Finally Leaving Early Access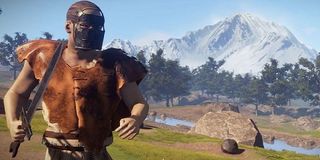 Rust, everyone's favorite game about naked people trying to survive in the wilderness, is finally ready to leave early access, with an official launch coming in just a couple short weeks. Get ready for a proper rollout on February 8.
Over on the game's blog, Garry Newman has outlined what a full launch for Rust will mean for the game, as well as its future development. It's certainly been a long road to this point, with development beginning way back in 2013. Since the game came out just shy of 2014, that means players have been taking part in its Early Access phase on Steam for just over three years. That's a long testing phase, so hopefully all of that time and dedication has paid off.
According to the announcement, however, no big launch parties, reveals or anything like that is being planned for the full Rust launch. It pretty much sounds like a switch will be flipped come Feb. 8 and, ta-da, the game is no longer in Early Access. Newman described the process as "business as usual." He added that staff won't be moved onto other projects. Instead, they feel Rust is at a point now where they can call it a proper game, with development planned to continue as it always has.
The post explains that the main reason the game was in Early Access for so long was because they simply had not decided what the actual game was in the early stages. They were just playing around with some ideas, feeling things out and figuring out what, exactly, all of those naked people should be spending their time doing in the game. Step one: Find clothing.
Despite finalizing the direction of the game, Newman admits there's much left to do from a development standpoint. As such, he said Rust's fans shouldn't expect that launch means the updates will dry up. The team will still be fine-tuning, adding content and improving what's already there. However, now that things are more "stable," the plan is to stop rushing updates out the door on a weekly basis.
Newman calls these "fixes that end up breaking something else." Rather than play a never-ending game of cat and mouse, Rust's updates will be tested more thoroughly and released monthly. Those updates will be for the Main Branch of the game. Folks who wish to play on the Staging Branch will still see the constant updates, but they'll have to deal with all of the bugs and issues that comes with that kind of cycle. Even better, you can have both versions of the game installed on your computer, so don't fret about picking which one you would prefer.
Staff Writer for CinemaBlend.
Your Daily Blend of Entertainment News
Thank you for signing up to CinemaBlend. You will receive a verification email shortly.
There was a problem. Please refresh the page and try again.