The LittleBigPlanet Marvel DLC Is Getting Pulled Soon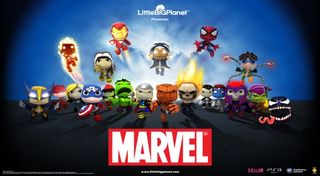 Sony recently announced that the Marvel DLC for the LittleBigPlanet games across the PlayStation Vita, PlayStation 3 and the PlayStation 4 will come to a halt. The DLC will be pulled from the PlayStation Store after December 31st, 2015.
The news was posted up over on the LittleBigPlanet PlayStation website, where the company announced that gamers would have one "last chance" to buy the Marvel DLC for MediaMolecule's create-and-play creation set.
All of the Marvel DLC will be wiped out from the store after December 31st, so they've discounted the Marvel mega-packs, the costume packs and the level creation packs to help move the content before it's taken off the store. This includes offering gamers a total of 30 different Marvel-themed costumes across the expansive comic book and movie universe within LittleBigPlanet.
The post encourages gamers to go ahead and make purchases while the content is available to download because there's no telling when or if it will be made available again.
On the upside, Gamespot is reporting that anyone who downloads the LittleBigPlanet content will be able to keep it in their library and re-download it as they see fit at a later date. This is usually how it works with most digital content that is removed from the storefront for purchase.
No one seems to know if or when the content is coming back for Sony's exclusive build-and-play series but, this isn't the first time we've seen this happen. When Disney first acquired Marvel, a lot of their properties were removed from digital storefronts and it also wasn't possible to get them digitally.
Games like Marvel Ultimate Alliance, Deadpool and various other X-Men and related games were temporarily made unavailable on all major platforms from digital storefronts. This meant that if you didn't buy the games when they were available then you were out of luck.
But things usually have a happy ending as far as Disney and Marvel products are concerned. The games eventually returned and are available again for purchase. Gamespot notes that this is due to digital publishing licenses expiring and having to be renewed by the publisher.
It's an inconvenience for gamers, no doubt. If players were planning on buying a certain game or content it will be unavailable while the publishing license gets renegotiated. In the case of Marvel and Star Wars titles the games returned, but in some other more unfortunate cases like 007: James Bond we've seen these titles disappear forever. If you weren't fortunate enough to get a physical copy you were unable to acquire one.
Ultimately, if gamers think that they might want to play around with Marvel costumes and level creation tools in LittleBigPlanet, it might be best to grab the DLC while it's discounted. It'll only be available up until December 31st, 2015.
Your Daily Blend of Entertainment News
Staff Writer at CinemaBlend.