Monster Hunter World Just Broke A Serious Record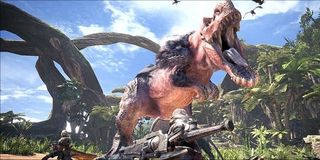 (Image credit: Capcom)
Capcom's Monster Hunter World is selling like crazy. How crazy? Well, the game managed to break a serious record for the company just weeks after making its way onto the marketplace both as a physical release at retail and as a digital release for the Xbox One and PS4.
According to Gamespot Monster Hunter World has shipped 6 million units within the span of two weeks, managing to break the record as Capcom's fastest moving title... ever. This accounts for digital sell-throughs and retailer shipped units. The actual divide between which of those come from for digital purchases and which of them come from for physical purchases aren't entirely clarified, but we do know that within three days Capcom managed to ship 5 million units of Monster Hunter World.
The really crazy part here is that the game hasn't even launched on PC yet. While some people might think that the PC doesn't play that big a role in a game's sales, keep in mind that the biggest selling game of 2017 was PUBG Corporation's PlayerUnknown's Battlegrounds, which moved more than 27 million units on PC alone, making it the biggest selling game of 2017 across a single platform. The Battle Royale survival title later came out for the Xbox One and moved 3 million additional units.
However, it's important to never discount the power of PC. Gamers also ponied up lots of cash to either buy for the first time or re-buy Rockstar Games and Take-Two Interactive's PC rendition of GTA V just for the extra graphical options and to use mods with the game. From April 2015 to February 2018 Rockstar managed to move 9.7 million units of GTA V on PC alone, according to Steam Spy. So there's a massive market there in the PC market.
For Monster Hunter World, the game won't be available on PC until this fall, but Capcom obviously doesn't need to worry about rushing given that the game is moving massive amounts of units in a very short amount of time on the Xbox One and PS4.
The last time a major Monster Hunter game was made available for consoles was Monster Hunter Tri for the Wii and PS3, which was a decent entry in the series but obviously wasn't as much of a priority to Capcom as the handheld versions for the Nintendo 3DS.
As mentioned in the article, this newest game is the first time a major Monster Hunter game has been released as a priority for home consoles in a long time. Previously there was Monster Hunter Frontier for the seventh gen consoles, but there was always regional problems, scattered releases, and some form of restrictions here or there that made it difficult for gamers to get into the game.
Now that Capcom has put the eighth-gen twins front and center for the Monster Hunter franchise, it's obvious just how big this series could be on home consoles if Capcom continues to foster its growth in a responsible way. The game is available right now for PS4 and Xbox One and will release this fall for PC via Steam.
Staff Writer at CinemaBlend.
Your Daily Blend of Entertainment News
Thank you for signing up to CinemaBlend. You will receive a verification email shortly.
There was a problem. Please refresh the page and try again.