Why Monster Hunter World Is Delayed On PC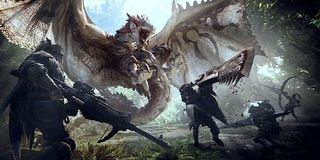 While console gamers are gearing up to jump into Monster Hunter World in about two weeks, it turns out the PC crowd is going to have to wait quite a bit longer before they can team up with friends to track down beasts. According to Capcom, the team is using that extra time to optimize the game as much as possible for the platform.
In a recent chat with GamesRader (via PC Gamer) Capcom's Ryozo Tsujimoto explained that while the console versions of Monster Hunter World are ready to roll, there's quite a bit more the development team needs to do to take full advantage of the PC platform. So if you're gaming on the PlayStation 4 or Xbox One, you'll be enjoying MHW on Jan. 26. The PC launch window, though, is a nebulous "autumn 2018."
As noted above, there are some good reasons for the launch disparity. As Tsujimoto points out, the PC version of the latest Monster Hunter is the team's first trek onto the platform. Similar to the characters in their game, they're taking their time, making sure they've got the right tools and proceeding with caution before trying to bring the development beast down. Specifically highlighted as a slow-down for development were PC servers and matchmaking, which the team is working to figure out. Tsujimoto explained that, on consoles, first party matchmaking is used to bring players together. On PC, they pretty much have to do all of the heavy lifting themselves. And in a cooperative game like Monster Hunter, that's definitely something you want to make sure you get nailed down before sending it out into the wild.
Of course, having a game launch on PC after the console versions isn't exactly a new trend for the industry. Tsujimoto does a good job of explaining why Capcom is going that route with MHW, though. Since PC development is new to the team, he said it would have slowed down all versions of the game if it was a big focus in tandem with console development. Also, getting the version they're most comfortable with out the door first means that the team will be able to give their full attention to the PC version in order to get it ready for the fall.
In the end, the objective is to deliver a solid game on all platforms, and Capcom figured this was the best way to go about achieving that goal. We can't say we disagree. The easy thing to do would be to leave PC out of the equation entirely, so we're glad they didn't decide to take that route. Monster Hunter World looks to be an evolution of the series, so we like the idea of more players than ever having an opportunity to experience it on their platform of choice. If one of those platforms takes a bit longer to roll out, so be it.
Staff Writer for CinemaBlend.
Your Daily Blend of Entertainment News
Thank you for signing up to CinemaBlend. You will receive a verification email shortly.
There was a problem. Please refresh the page and try again.