Monster Hunter: World Is Having Matchmaking Problems On Xbox One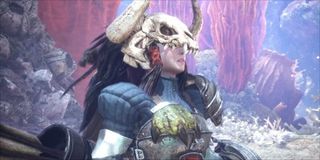 (Image credit: Capcom)
The Xbox One version of Monster Hunter: World may have launched day and date with its PS4 counterpart, but not all versions were apparently made equal. Capcom's open-world, monster hunting simulator has apparently encountered some troublesome hiccups with the matchmaking on the Xbox One.
The news comes courtesy of a heads-up from the official Monster Hunter Twitter account, which revealed that many of the matchmaking features on the Xbox One version of Monster Hunter World are currently "unavailable". This includes being able to find matchmaking games with other players looking to do expedition quests, as well as filtering the search to find only specific kinds of quests for specific kinds of players. Additionally, one of the more unique features of the game that allows players to respond to dynamic SOS signals fired from the flare guns is also unavailable.
The feature allows a single player during a quest run who is having trouble to fire a signal flare into the sky to send out a distress. This would allow other players who are moseying around the main city of Astera to queue up and jump into the game to help out fellow players. However, with the matchmaking being broken... it means you won't be helping out anyone in Monster Hunter World.
The same thing also applies for the game's Squad Session Search. This is a feature designed to team up players who are looking for a squad of four or more players to do hunts together. However, you're fresh out of luck because it, too, is also unavailable for the time being.
On the upside, the developers working on the game are fully aware of the issues plaguing Xbox One owners and are working on a solution to provide an update as soon as possible.
Now there is a caveat to this news that some gamers might find alleviating: you can still play online with friends.
While matchmaking may be broken in Monster Hunter World, the session IDs based on the friends you have in your friends list is still available. So you just won't be able to do group searches, but if your buddies are online you will still be able to play with them.
There is no ETA on when the update will arrive to fix the matchmaking issue, but I'm sure Capcom is betting on the fact that most people will still find themselves playing through the game's lengthy story mode before attempting to engage in some of the game's other side-quests and multiplayer-oriented content... or at least, that's probably what the network technicians are hoping for as they troubleshoot the problem and work on getting a fix out.
Monster Hunter World is currently available for Xbox One and PS4. The game is also scheduled to release later in the year for PC gamers as well. Hopefully, there's a proper beta so that Steam users won't run into the same problems as Xbox One owners.
Staff Writer at CinemaBlend.
Your Daily Blend of Entertainment News
Thank you for signing up to CinemaBlend. You will receive a verification email shortly.
There was a problem. Please refresh the page and try again.