Black Panther Movie Characters Are Coming To LEGO Marvel Super Heroes 2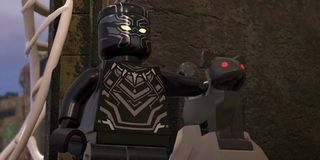 If you're looking for something to keep you busy until Black Panther hits theaters this weekend, you might want to boot up your console of choice and pop in a copy of LEGO Marvel Super Heroes 2. A new DLC pack inspired by the film is available now, offering new playable characters, a fresh location to explore, missions to tackle and more.
With Black Panther set to hit the silver screen in just a couple of days, pretty much every active game with "Marvel" in the title is rolling out the red carpet to welcome his highness to the party. That goes for LEGO Marvel Super Heroes 2, with Black Panther content available now.
This latest content allows players to visit the realm of Wakanda, where the Black Panther and his sister, Shuri, must fight the evil Erik Killmonger and his army of henchmen. You'll discover a bunch of new characters to play as, a collection of fresh missions to tackle and, possibly the most exciting, a Wakanda map full of adventure.
All told, the Black Panther DLC boasts six playable characters, including the titular hero in his Vibranium Suit, Okoye, Nakia, Erik Killmonger in his own Black Panther suit, Ulysses Klaue and Everett K. Ross. The game's roster is already 200-plus characters strong, but it's nice to see such a large addition to celebrate the upcoming movie.
Is you're looking to just pick up the Black Panther content, it'll set you back $2.99 in the Xbox One, PlayStation 4, Nintendo Switch or PC version of the game. If, however, you picked up the season pass for $14.99, then this latest content is already included. That bundle is set to include six level packs and four character packs, with DLC already boasting Guardians of the Galaxy, Chamions, Out of Time (with characters like Hulk and Spider-Man from different eras) and Agents of Atlas. The season pass also comes with an exclusive Giant-Man Minifigure if you picked up a physical copy of the game.
Marvel takes spoilers pretty seriously, so we doubt this content will be an abbreviated trek through the upcoming Black Panther film. Since the game and its stories kind of take place in their own setting, we figure it will be heavy on gameplay and light on plot points. If you've already had a chance to dive into the missions, feel free to let us know if we should be worried about spoilers in the comments below.
As noted above, LMSH2 still has several character and mission packs planned as DLC, but we haven't had word yet on what those packs will include. Feel free to include your ultimate Marvel wish list in the comments section, too.
Your Daily Blend of Entertainment News
Staff Writer for CinemaBlend.