LEGO Marvel Super Heroes 2 Launch Trailer Is A Who's Who Of Marvel Heroes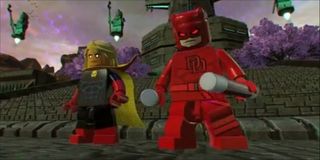 The LEGO Group, TT Games and Warner Bros. Interactive Entertainment released the official launch trailer for LEGO Marvel Super Heroes 2 for home consoles and PC, and the trailer was put together to make sure that it was a funny and entertaining experience for gamers of all ages. It's also full of more heroes than we can keep track of.
The trailer starts with supervillain Kang the Conqueror making his presence known about conquering worlds across time and space. We then get to see how large he can grow and uses his giant sword to crush a city, to which Nick Fury makes a quip.
Even though dubstep is now completely outdated, it's front and center here in the trailer for LEGO Marvel Super Heroes 2, and it even features some rather hilarious timed dance beats with Spider-Man and a few others jamming along with the tunes.
Players will be able to assemble a heroic team of characters from a pool of more than 200 Marvel superheroes. We get to see a number of fan-favorites and underrated characters alike from the Marvel Cinematic Universe, the Marvel comic book universe, and the Marvel television universe.
Gamers have been clamoring to play as certain Marvel heroes in newer games, especially characters like Dare Devil, Luke Cage and Doctor Strange. Others like the entire cast of the Guardians of the Galaxy make an appearance, along with Thor, Hulk, Captain America, Iron Man, Black Widow, and Hawkeye.
The game even takes players all the way across the Marvel universe, from New York to Asgard, and from the mystic mountains to the celestial head of Knowhere -- players will embark on a fairly large scale quest in LEGO Marvel Super Heroes 2 in order to defeat Kang the Conqueror.
In the trailer, we see that players will travel to all sorts of various locations and fight against a wide variety of bosses from Marvel's extensive universe of fictional characters and stories. What's more is that you'll also be able to partake in some four-player versus arena modes where each player can grab their favorite and duke it out.
The one thing the trailer doesn't actually cover that's featured in LEGO Marvel Super Heroes 2 is the time mechanic, where players will be encouraged to manipulate time to gain an advantage when the going gets tough.
Given that there's at least one hero in there for everyone, it seems like TT Games was really aiming to make something that was fun for the whole family, including bringing back the LEGO games' much-appreciated cooperative play in the story mode.
The game is available right now for the Xbox One, PlayStation 4, PC and the Nintendo Switch. You can learn more about the post-launch content for LEGO Marvel Super Heroes 2 (courtesy of a season pass) by dropping by the official WB Games website.
Your Daily Blend of Entertainment News
Staff Writer at CinemaBlend.