LEGO Marvel Super Heroes 2 Announced With New Trailer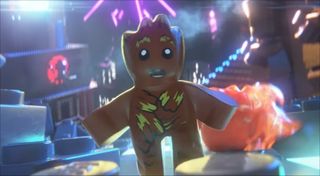 The Lego Group and Marvel Entertainment aren't done with each other. In fact, they appear to be just getting started. Following up on the widely popular LEGO Marvel Super Heroes game, the two mega companies have joined forces together again for LEGO Marvel Super Heroes 2.
The trailer is only 17 seconds long and was recently posted on the official YouTube channel for LEGO Marvel Super Heroes 2.
The teaser trailer is actually just an announcement trailer for the upcoming full trailer. So we'll all have to wait until May 23rd before we can finally see what the full gameplay reveal is like for the next LEGO Marvel Super Heroes title.
The teaser itself features a Baby Groot running through debris while explosions go off around him. It's impossible to tell exactly where he is, or if he's even on Earth. Typically, Groot, being part of the Guardians of the Galaxy, is usually off-world somewhere. However, in the background it looked like there were buildings you might find on Earth, so who knows exactly where it takes place?
Unlike other games based on Marvel properties, the Lego games don't necessarily conform to the standards of the narrative structures for which many of their games are based. So it's not uncommon to see deviations from the original storylines featured in the main movies such as The Avengers or Guardians of the Galaxy.
In some cases they do attempt to stick with the original storyline and unfold it in a similar way, sort of like how they handled the LEGO Star Wars games or the LEGO Harry Potter games.
In the case of the original LEGO Marvel Super Heroes, the game absolutely did not follow any particular plot line from the Marvel Cinematic Universe. Instead, it was an original tale centered around the Silver Surfer, Galactus, Dr. Doom, and the rest of the heroes and villains in the Marvel universe.
It appears as if the sequel this time around may focus a bit more on the Guardians of the Galaxy, and understandably so. When the original LEGO Marvel Super Heroes launched back in 2013, the film franchise for Guardians of the Galaxy was nowhere near as big as it is now.
We do know that the newest game will expand its sights to include other super heroes recently making their way into the Marvel Cinematic Universe, such as the titular Doctor Strange.
Given that Galactus was a featured villain in the last outing, I imagine that Lego will tap Thanos this time around. He's been a wildly popular go-to character these days in the gaming universe, so I wouldn't be surprised to see him pop up in LEGO Marvel Super Heroes 2.
Staff Writer at CinemaBlend.