How To Get Free Money In GTA V Right Now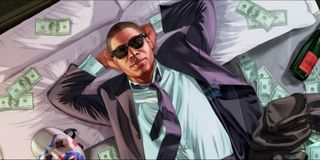 (Image credit: Rockstar Games)
Rockstar Games announced that it's possible to get free money just by playing Grand Theft Auto V's online mode. Yes, if you log into the game and start playing and spending money in the GTA Online mode, you'll be able to make some mad bank in the form of free cash before the month is out.
Over on the official Rockstar Games website, there's a news post about how gamers who log into GTA Online right now, between February 16th and February 26th, will qualify for a 2018 San Andreas State Tax Refund & Rebate within GTA V. This will enable you to a basic $250,000 bonus in virtual money and a 10% rebate on every dollar you spend in the game. The rebates and bonuses will be handed out between February 27th and March 6th, 2018, and depending on how much you spend you could net yourself up to $1 million in rebates.
So, how do you access this free money? Well, it's really all quite simple. You just have to log into GTA Online between February 16th and February 26th and you're automatically qualified for a $250,000 in-game stimulus bonus. In addition to this, you will receive 10% cash back on everything you spend in the game. If you buy a car or a house or weapons? You get 10% cash back. You can continue to get rebates on everything you spend up until February 26th and up until you reach a max of $1 million in cash back rebates. That's a heck of a lot of spending you'll need to do to rack up that amount in rebates.
After you log out of the game and log back in anytime after February 27th and before March 6th, 2018, you'll receive your GTA dollar stimulus bonus and the rebate bonus from Rockstar Games.
The money you get back will go into your Maze Bank account, between the end of February and the first week of March.
I'm sure a lot of people who haven't been playing GTA Online diligently over the last several months, or maybe over the last couple of years, would enjoy the opportunity to get their hands on some free money.
Since launching back in 2013, the service has added a ton of new content, including new cars, new clothes, new missions, and new multiplayer modes. You'll be able to spend the $250,000 on a number of all new content on the PC, PS4 and Xbox One versions of the game.
Maybe you've always been looking to get your hands on a special sports car but never quite had the cash to do so? Well, maybe now you'll be able to do that. Maybe you've had a car for a while but you've always wanted to upgrade and customize it for a specific purpose? Well, now you can do that, too.
You likely won't be able to purchase some of the more expensive military grade vehicles, but you can still get your hands on plenty of other items in GTA Online to maximize your fun and unleash some mad chaos in Los Santos.
Your Daily Blend of Entertainment News
Staff Writer at CinemaBlend.