Fortnite Season 3 Is Here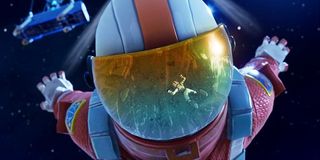 Fortnite: Battle Royale has officially kicked off its third season, meaning players can expect to unlock a whole bunch of fresh in-game loot by playing oodles of matches over the next couple of months. As for this season's theme, Epic is taking players to outer space.
To be clear, that whole "space" thing is not a nod toward a future second map for the Battle Royale game mode though, now that we've said it, we absolutely want it. Instead, it's a loose set of guidelines as to what players can expect out of this season's loot, most of which you can get a look at on the game's official site. Season two, which features a medieval theme, wrapped overnight and season three has officially gone live. It'll last until April 30.
In case all of this season talk for a free-to-play, 100-player shooter is confusing, it basically means there's an extra tier of content players can choose to buy into in order to unlock additional loot. The season content doesn't really apply to Fortnite's Save the World cooperative mode, though any in-game currency earned there can be spent on the Battle Royale mode, and vice versa.
The big feature of a season is the Battle Pass, which will set players back 950 V-Bucks, or about $10 in the real world. Again, you can earn V-Bucks by playing the game and, again, you can play the game without any restrictions without worrying about seasons or a Battle Pass.
While playing through a season, you'll earn experience that unlocks in-game loot. This includes everything from temporary experience boosts to things like emotes, extra V-Bucks, dances, skins and the like. Nothing impacts gameplay, unless you count the fact that some skins (a giant pink plushie, for instance) are likely more visible on the map than others.
If, however, you purchase a Battle Pass, you'll unlock even more stuff each time you level up, including a bundle of items the moment you purchase the pass. As noted above, this season's theme is space, so there is a trio of skins that put your character in space suits included in the Battle Pass, as well as a pick that looks like the arm of a space station and a skin that looks like a cross between The Rocketeer and Star Lord.
While the second season offered 70 tiers of content to work through, Epic has announced that the third season includes a full 100 tiers. That means there's more loot to earn than last season, though boosts and experience have been balanced in a way that it should take around the same amount of time to play your way through. The Battle Pass is also retroactive so, if you play for a month and decide you want to buy in, you'll unlock everything from that extra tier that you would have earned had you purchased the pass on day one.
Again, given the current state of microtransactions, we feel the need to reiterate that you can keep right on playing Battle Royale for zero dollars and get the same experience as everyone else. If you feel like dropping money or in-game currency on the Battle Pass, you'll simply unlock more skins and whatnot along the way. There's also been a refinement to the in-game challenges, and a new Hoverboard has been dropped into the cooperative mode for players who want to get around more quickly.
Staff Writer for CinemaBlend.
Your Daily Blend of Entertainment News
Thank you for signing up to CinemaBlend. You will receive a verification email shortly.
There was a problem. Please refresh the page and try again.