South Park: The Fractured But Whole Is Getting New Story DLC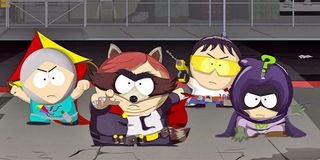 South Park: The Fractured But Whole is getting some campaign DLC, and it's shaping up to be just as ridiculous as we could have hoped. Get ready to take on a brood of vile creatures in From Dusk Till Casa Bonita.
Set to arrive March 20 on the PS4, Xbox One and PC, TFBW's first major piece of DLC will give players a new location to explore, new enemies to trounce, a new class of superheroes to become and even a new story to explore. Even better, all of the new swag and abilities you gain in the DLC can be carried straight back into the normal campaign.
If you haven't already guessed from the name, From Dusk Till Casa Bonita puts a South Park spin on the cult action/horror film, From Dusk till Dawn. While not exactly beloved by critics, this Robert Rodriguez flick sees a couple of robbers and a kidnapped family get their whole world turned upside-down when they visit a bar/brothel that just so happens to be home sweet home to a bunch of bloodsuckers.
In Casa Bonita, players will join The Coon and Mysterion on a quest to save a beloved family member who has been kidnapped. The local Vamp Kids have decided to turn Casa Bonita into their own personal hangout, so it's up to the duo and their new friend (the player), to take them down.
Reminiscent of Oblivion's popular vampire-themed content, players will also be able to take on a new superhero class called the Netherborn, which boasts a whole bunch of fun occult powers. The press release from Ubisoft encourages the player to "fight darkness with darkness" while also decking your character out with the latest in goth costume items and accessories. You'll be able to explore Black Bart's Cave, watch the cliff divers and taste the magic of Mexico, all while taking on a horde of vicious vamps.
We're still a couple weeks out from the DLC's March 20 launch date, but Ubisoft has made it known that players can expect to fork over $11.99 in order to explore the Casa Bonita DLC. That's actually not a terrible wait, considering the fact that this is the first we're even hearing about the DLC. This also kind of makes us wonder if maybe the developer is planning on releasing other DLC packs featuring additional characters/locations from the show that weren't big points of interest for the previous two games. Considering how many references they've already managed to cram into the games, though, we're feeling hard-pressed to come up with any examples. Feel free to add your own wish list in the comments below.
Staff Writer for CinemaBlend.