Shadow Of The Tomb Raider Apparently Confirmed For This Year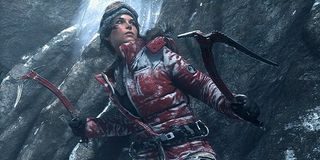 Lara Croft's rebooted origin story is set to get a third chapter this fall, as a website for the game accidentally reveals more details than it intended to, including the name and launch date. Get ready for Shadow of the Tomb Raider.
If you head on over to the official Tomb Raider website, you'll see a stark black splash page with what appears to be an eclipse at its center. Under that, we find an announcement that something will be revealed tomorrow, March 15, at 6 a.m. PDT.
Considering the fact that the new Tomb Raider series has been doing really well and we already knew that a third game was on the way, it's easy to jump to the conclusion that an official announcement for said game is what we'll get tomorrow. But it turns out that we don't have to make any such leaps, as the folks over at Kotaku did a little bit of digging. They're reporting that, if you just take a gander at the site's HTML, you'll find the Shadow of the Tomb Raider name, as well as a quote that this is the "climactic finale to Lara's origin story," and that it will be available Sept. 14 of this year.
On the one hand, it's kind of a bummer to have these details before the actual reveal. On the other hand, we're not sure why this type of information would be hidden at such a base level if anyone was hoping to keep it secret until tomorrow morning. As noted in the comments of the original post, there are actually a few more details available within the site's HTML, including the fact that the various versions of the game, incentives, etc. will be revealed on April 27. Also, a puzzle is mentioned, which might reference an interactive portion of the website set to go live tomorrow. We'll just have to wait and see.
What's interesting about this latest Tomb Raider game, outside of the fact that it will wrap up Lara Croft's formative tale, is that it's not coming from the studio that made the first two games in the series. Tomb Raider and Rise of the Tomb Raider were produced by Crystal Dynamics, both receiving quite a bit of critical and commercial success. Shadow, though, is being developed by Eidos Montreal, the folks behind games like Thief and the recent Deus Ex offerings. As we noted last year, the team at Crystal Dynamics is working on the new Avengers game for Square Enix, which we wouldn't be surprised to learn more about at this year's E3 event in June. Obviously, working on a Marvel project didn't leave them a lot of time to do a third Tomb Raider game, hence the development shuffle.
Despite the mild spoilers we've already received, we figure tomorrow's announcement will feature some fresh details concerning the new Tomb Raider, so stay tuned.
Staff Writer for CinemaBlend.
Your Daily Blend of Entertainment News
Thank you for signing up to CinemaBlend. You will receive a verification email shortly.
There was a problem. Please refresh the page and try again.