What's Coming To Xbox Game Pass In April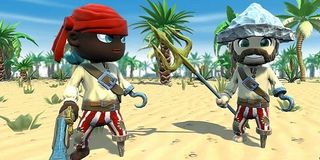 April is just around the corner, which means the folks at Team Xbox are getting ready to roll out a collection of new titles to be offered as part of Xbox Game Pass, the subscription service that lets you play a whole bunch of titles in exchange for a monthly fee.
The Xbox Game Pass library now includes more than 100 games, ranging from Banjo-Kazooie and Bayonetta to the BioShock trilogy, the Fable collection and a whole bunch of Resident Evil titles. Along with a regular injection of additional titles, Microsoft announced earlier this year that updates would occasionally include brand new games day and date with their regular launch. This month, for instance, subscribers got their hands on the brand new, multiplayer swashbuckling game, Sea of Thieves.
Once April rolls around, another eight games will be added to the service. The headliner is Robocraft Infinity, which will launch on April 11 through ID@Xbox. This is another game that is launching day and date with its arrival on Xbox Live, meaning subscribers to Game Pass will get to join the fun as soon as the title arrives. It's a game that focuses on building insane robots and then having them go toe to toe with online opponents, so we figure the Game Pass launch will help ensure a nice, populated arena once the game actually launches.
Also up for grabs in April will be Portal Knights, a bright and colorful game that that mixes the building of Minecraft with the adventuring of an RPG. There's also Cities Skylines for folks who want to build a bustling metropolis, Cluster Truck for those who want to experience platforming across fast-moving vehicles and Late Shift, a cinematic, live-action thriller.
Wrapping up the April offerings is the appropriately named hunting simulator The Hunter: Call of the Wild, the beautiful strategy adventure game, Kingdom: New Lands, and Sacred Citadel, a side-scrolling brawler.
Again, these titles are on top of the rather hefty library of games already available through Game Pass, including the rather impressive addition of Sea of Thieves. The rest of the collection includes indie titles, AAA blockbusters, and games from both the Xbox 360 and Xbox One. You can sign up for a two-week trial of the service if you're not yet convinced, and the service itself is $9.99 a month. Your actual games must be downloaded, and you can snag as many as your hard drive can handle. The games will no longer work if your Game Pass subscription ends, buy you'll still keep your saves and progress in case you want to pick it back up sometime down the road.
For those of you who already use Game Pass, feel free to share your thoughts in the comments below.
Your Daily Blend of Entertainment News
Staff Writer for CinemaBlend.