Xbox Explains More Details About Game Pass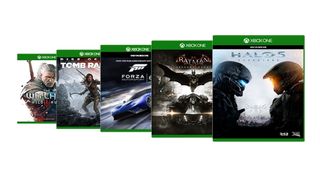 (Image credit: Microsoft)
This new Xbox Game Pass has a lot of people chattering about the possibilities of Microsoft's new digital-only subscription service. It sent GameStop shareholders into a tizzy, and now Microsoft is hoping to do the same for gamers, now that they've revealed a few more details about the project.
Kotaku managed to get some details on the Xbox Game Pass and how the library will work on a month-to-month basis. They explain that the contents of the Game Pass library is not constant and will change frequently. They mention that some games will be added to the Game Pass library while some games may be removed. It seems to be a similar to the EA Access vault, where they put some titles in and give gamers an opportunity to play them for a while and then cycle in other games to flesh out the offerings as well. The plan is to keep over 100 Xbox One and Xbox 360 games available in the library for gamers to peruse.
Of course, one of the more important details is whether or not games will stay in your library even after your subscription period runs out. The answer is a big, fat, emphatic... no!
So long as you continue to pay $10 a month you will have access to the entire catalog of games available through the Xbox Game Pass. You can play the games as long as you want, as much as you want, whenever you want. So long as your subscription is active, you can play anything available in the Xbox Game Pass library.
However, if your subscription lapses, if you fail to pay to keep the service active, or if you cancel your Xbox Game Pass subscription, you will instantly lose access to every game in the Xbox Game Pass library. Some people were curious about the games already downloaded and installed on the Xbox One hard drive... well, those games will be automatically deleted. It's not entirely cruel, though. The saved data and achievements you unlock will still persist on your account, even if you have unsubscribed from the Game Pass service.
Essentially it's like Netflix for Xbox games.
One of the other big questions is how this will affect the Games With Gold program. Well, Microsoft revealed to Kotaku that Games With Gold and the Xbox Game Pass are "two different service offerings".
So just to reiterate: the Xbox Games With Gold program will not be affected in any way by the new Xbox Game Pass. Both services will operate independently from one another, and gamers will continue to receive free Games with Gold titles each month along with their paid Xbox Live Gold subscription.
Additionally, Microsoft explained that if you want to play the multiplayer portions of games made available through Xbox Game Pass, you will need an active Xbox Live Gold subscription. So basically you'll have to pay $10 a month for the Game Pass on top of what you would pay for Xbox Live Gold if you want access to the library and to be able to play multiplayer games in an online environment.
Your Daily Blend of Entertainment News
Staff Writer at CinemaBlend.