Sea Of Thieves Addresses Technical Problems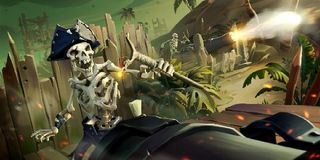 Sea of Thieves finally set sail on Xbox One this week and, according to early reports, the waters have been a bit choppy. Thankfully, Rare has been quick to address the issues, breaking down a list of fixes they plan to implement in the weeks ahead. For their part, Rare has rolled out a 10-minute developer update letting players know that, not only have their concerns been heard, but the team is actively working on fixes.
While Sea of Thieves has only been out a few days, players are already reporting a handful of issues that aren't all that uncommon with online multiplayer games. From servers crashing to rewards not triggering, some virtual pirates have gotten a bit salty over the game's rough launch. Sometimes these types of issues are due to a game not being tested thoroughly enough before launch, but that doesn't seem to be the case with Sea of Thieves. They've had quite a few beta tests at this point, with loads of players getting the opportunity to help test servers, systems and the like.
Of course, no matter how much ground work you put in, there's no telling what sea creature might rear its ugly head once a full game actually goes live and its servers become flooded with players. Based on buzz and popularity on streaming services like Twitch, it seems Sea of Thieves has drawn quite a crew of players. But, again, that can frequently lead to a game becoming a victim of its own success. If your ship can't handle the load, it starts to sink.
If you don't have time to watch the video, we'll break down the six key areas Rare plans to address moving forward. We'd recommend hitting up the official blog if you've got a minute, where updates on the issues and advice for handling each problem is offered.
It looks like Rare's first goal is to make sure all players can actually log into Sea of Thieves and play the game but, until that happens, they recommend trying to jump in with a crew that has already formed.
Second is player rewards being delayed. For the time being, they say you should keep playing until your rewards unlock. If you log out before they unlock, they might be gone forever.
The third issue was Achievements not unlocking properly, which is why they are currently disabled. The good news is that the next patch, due out early next week, should address this particular problem.
Some players are reporting logging into the game and noticing items missing. The fix is coming in next week's patch, supposedly, but there doesn't seem to be a way around this for the time being.
Fifth on the list are general performance issues, also believed to be addressed in next week's patch.
Finally, players have reported they are not receiving in-game entitlements, with the Black Dog Pack listed as an example. Apparently, the number of players trying to redeem those entitlements caused the issue, so they've been deactivated until the patch goes live next week.
Your Daily Blend of Entertainment News
Staff Writer for CinemaBlend.